Finding housing in New York is a struggle. A new app being advertised on the subway wants to help—but only if you speak Chinese.
The app being advertised is called Uhouzz, which happens to be the name of a home-improvement website, only with a "U" in front of it. The "U" in this case might refer to "university," because the app's particular aim is to help Chinese international students find places to live abroad.
"Study abroad students' overseas home," the ad reads.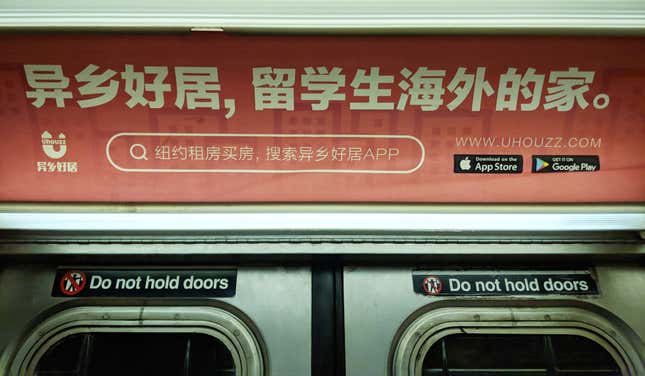 The New York City subway is a linguistically diverse place. Official public service announcements are usually translated into Chinese, Spanish, and other languages (though often poorly). Ads show which of these groups the private sector thinks are worth spending money on. In New York, that has typically only included English and Spanish. It seems Chinese is now in the mix.
The story of Chinese investors buying up real estate in the US, Canada, and other Western countries has long focused on nameless billionaires making large purchases, like the Beijing-based company that now owns the Waldorf Astoria hotel. While billionaires generally don't ride the subway, middle-class students with some pocket money do.
Uhouzz's campaign is running alongside a series of subway ads from other startups targeting aspirational 20- and 30-somethings, like Seamless (home-delivered food), Casper (home-delivered mattresses), Minibar (home-delivered liquor), and Quip (home-delivered toothbrushes). It has a functional English website, but its target customer is clearly Chinese.
The app is based in Tianjin, China. There is an office in Boston, but when I called the number I got a message saying, "You have reached the number [sic] that is not set up to receive calls." Its Chinese name translates to "good home in a strange land." The US will now seem a little less strange to Chinese students abroad, who are rich and numerous enough to be catered to in their own language.