Steelcase believes it has developed a global office chair that's as high-tech as all your gadgets.
The office furniture maker's new "flagship" chair was designed to be comfortable whether a worker is using an iPad or a smart phone, a laptop or some other device or tool. That chair, called Gesture, will begin shipments in November in North America and about a month later in Europe and Asia. It will sell for around $1,000 online and through Steelcase dealers, a price point that the company acknowledges may not be easy for employers in parts of the globe where the economies are struggling.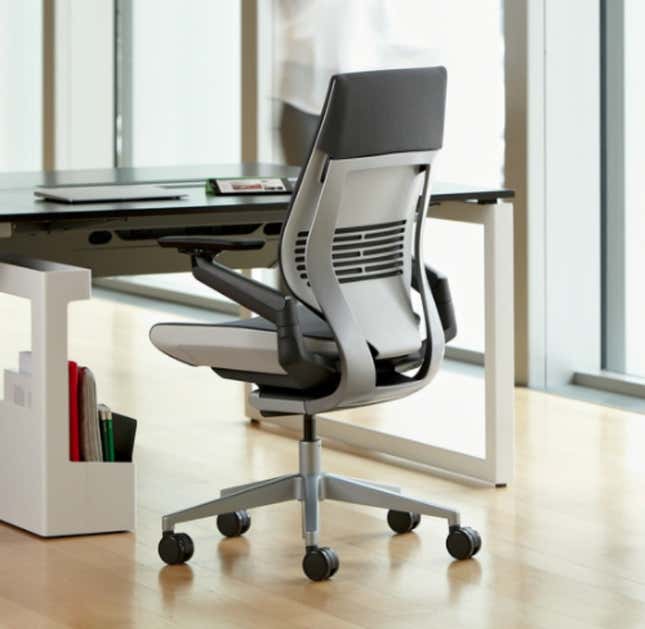 The company based the chair's design on three big "aha moments" identified when its researchers viewed and documented the ways of sitting and posture of 2,000 workers in 11 countries. The first: "Workers are moving through multiple devices during the day," and sitting in nine new postures that are related to new technologies, Ken Tameling, Steelcase's global seating general manager, says in an interview with Quartz. Second, workers increasingly are "extreme sizes"—either very obese or very small.  Third, the way people want to sit at work varies based on their age. For example: "Millennials prefer to recline—a deep recline," he says.
"We … took our inspiration of the human body at work," James Ludwig, Steelcase's vice president of global design, says in a video introducing the Gesture. "The human body … wants to be fluid and be supported dynamically. It caused us to fundamentally rethink how we do a chair."
Steelcase produced a chair that it says will adapt quickly and easy with armrests that swivel and swing, the adjustments happen quickly and naturally. The seating can be extended for larger people or shrink for smaller ones, says Tameling.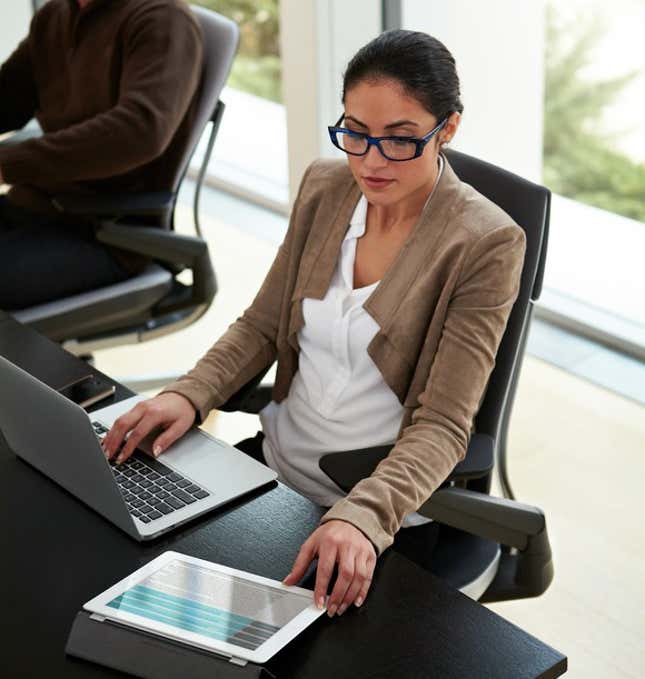 Pre-orders have been strong. CEO James Patrick Hackett told analysts 10 major customers have committed to orders, and a spokeswoman added that Steelcase will be at "full capacity" in manufacturing the chairs.
This week, Steelcase reported operating income of $55.3 million, up 10% from the second quarter of 2013, as its global sales inched up. Economic woes in Europe contrasted with strong results in the Americas, including an operating income margin of 14%, the highest for any region in a decade. Steelcase also said its order backlog in the Americas grew 19% from the prior year.
Companies often replace chairs during a remodeling or when seating seems unsafe. "But the best time to consider new chairs is when a company seeks to improve organizational performance. Chairs are a primary component in a work system, and as such they have a direct impact on productivity, quality, and human resource metrics," says Peter Budnick, CEO of Ergoweb Inc., an ergonomics consultant. He has not tested the Gesture yet, saying "there's so many chairs in the market it's hard to keep up."
Steelcase has shown the chair since the spring, and reviews have been favorable. "Kicking back with cat videos has never been so comfortable," writes Popular Science.  The New York Times tech columnist David Pogue, in a funny video review where he tries out all nine new tech device postures, commented, "I couldn't find another chair that moves in so many different ways…. You may as well get a chair that's just as high tech as your gadgets."
The Gesture will be made in three factories—first in Reynosa, Mexico, and then a few weeks later in Sarrebourg, France and Kuala Lumpur, Malaysia. The chair was designed by engineering and ergonomic staff in Grand Rapids, Michigan, assisted by teams in France and Malaysia.
Its name was developed by Steelcase staffers, who kept coming back to the idea: "Technology has become increasingly intuitive with the gestures you make. What's the interface between technology and the body? …Could we design a chair that is as intuitive to use as today's newer technology?"
The answer, of course, remains to be seen—and felt.