China is clearly militarizing the South China Sea. To many, that was obvious years ago. For remaining doubters, Mischief Reef should clear up any doubts.
According to a report by CNBC, China has quietly, within the past 30 days, installed anti-ship cruise missiles and surface-to-air missile systems on Mischief Reef and two other fortified outposts in the Spratly Islands. CNBC cited "sources with direct knowledge of US intelligence reports."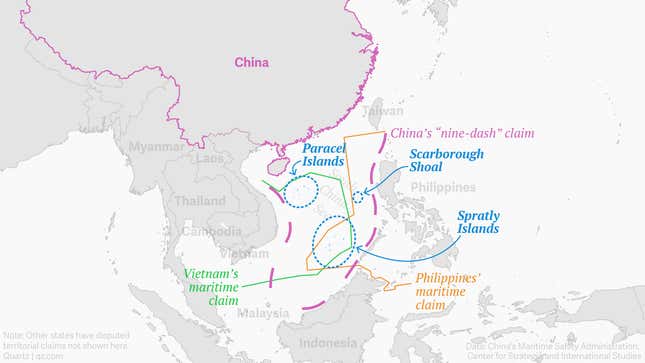 China long denied that it was up to any, well, mischief at Mischief Reef. It began building there in the mid-1990s, erecting a structure on stilts and claiming it was merely a shelter for fishermen. But with the reef being just 217 kilometers (135 miles) from the coast of the Philippines' Palawan island, it made officials in Manila—as well as ones in Vietnam, Malaysia, and other nations with claims in the sea—nervous.
In its natural state, Mischief Reef was submerged at high tide. By the end of 2016, after much dredging and building—and environmental destruction—China had installed a runway, hangars, and large anti-aircraft guns. Beijing had stopped pretending about the fishermen's shelter, but it stuck to an argument that its facilities were defensive in nature.
Now the presence of missile systems on the island makes that argument harder to believe. Defense experts commenting on Twitter took some issue with the CNBC report describing the systems as "defensive." Among them was Rory Medcalf, a security expert at Australian National University, who noted that the systems "could be used to target shipping and aircraft in international waters and airspace, from artificial islands that are not legally recognised as China's territory. It's a bit like calling an aircraft carrier defensive."
That was seconded by Ashley Townshend, a defense expert at the United States Studies Centre at the University of Sydney, who wrote, "Calling missiles 'defensive' that are deployed on illegally seized features in international waters… strains the definition of the word. This is power projection."
Lyle Morris, a senior policy analyst at Rand, tweeted that "China is now unambiguously militarizing the Spratlys."
"Before this, if you were one of the other claimants… you knew that China was monitoring your every move," noted Greg Poling of the Center for Strategic and International Studies to Reuters. "Now you will know that you're operating inside Chinese missile range. That's a pretty strong, if implicit, threat."
The missile systems have also been installed on nearby Fiery Cross Reef and Subi Reef, according to the report, but their presence on Mischief Reef is particularly questionable. In addition to generating no legal entitlement—not even a territorial sea, since in its natural state it was submerged at high tide—Mischief Reef is within the exclusive economic zone of the Philippines and especially close to its shores. An international tribunal determined in 2016 that by transforming the reef at great environmental cost into an artificial island, it infringed upon the Philippines' sovereign rights in its EEZ and continental shelf.
Yet Philippines president Rodrigo Duterte, who has cozied up to Beijing since taking office in 2016, has argued that China building military bases within striking range of his country is not problem because they're intended not as a threat to Filipinos but to counter US power.
The problem with such reasoning, of course, is that intentions can change.