Generally speaking, a sovereign nation dislikes it when a foreign power establishes new military bases within striking range of its capital. But when it comes to China doing just that to the Philippines in the South China Sea, Rodrigo Duterte, it seems, doesn't mind at all.
The Philippines president, speaking to a crowd of Chinese-Filipino businessmen yesterday (Feb. 19), admitted that China is building military facilities on contested islands near the Philippines. But, he argued, Beijing's intention was to counter US power in the region, not to inflict harm on his nation.
"It's really intended for those who China thinks will destroy them and that is America," he said. "We are not part of it… Ignore the missiles there. They are not for us."
Critics were quick to pounce. "The Duterte administration still believes in China's good faith, but any level-headed observer certainly will not," responded Antonio Carpio, a Supreme Court senior associate justice, to the Philippine Daily Inquirer. That newspaper earlier this month published detailed photos of China's militarization on contested islands in the sea's Spratlys archipelago.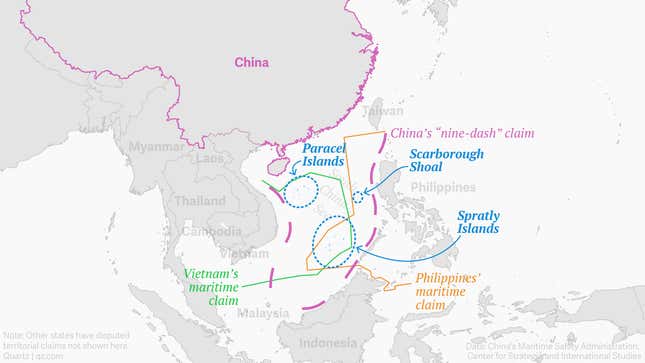 Since becoming president in mid-2016, Duterte has been defeatist, critics contend, about China's maritime aggression, which has recently included the fortification of militarized manmade islands.
He did little to allay such concerns yesterday. In an apparent joke—and with Chinese ambassador Zhao Jianhua looking on—he said Beijing could make the Philippines a province of China if it wished. He also said the Philippines and China should embark on joint development of his nation's energy resources, with China getting a third of them.
Such statements, made however lightly, will further anger patriotic Filipinos who believe Manila should put up more resistance to China's maritime moves. Before Duterte became president, the nation fought a years-long legal battle contesting China's sweeping territorial claims in the sea. The tribunal ruled in favor of the Philippines in July 2016—and largely invalidated China's claims—but by then Duterte was newly in power. He soon struck a more conciliatory tone with Beijing, eager to secure investments, loans, and trade deals with the giant.
To be sure, he's occasionally at least appeared to stand up to Beijing on the South China Sea issue. Last November, while serving in the rotating role of chairman of the Association of Southeast Asian Nations, he pledged to "carry the voice of ASEAN" and press Chinese president Xi Jinping, whom he was about to meet, on China's military buildup.
"I have to tell the truth that everybody is worried," he said at the time. "Those arms, they are not there for any other purpose. They are not decorations. They are there because China would need them."