Update (Sept. 26): The original picture on this article has been changed. See note below.
Background: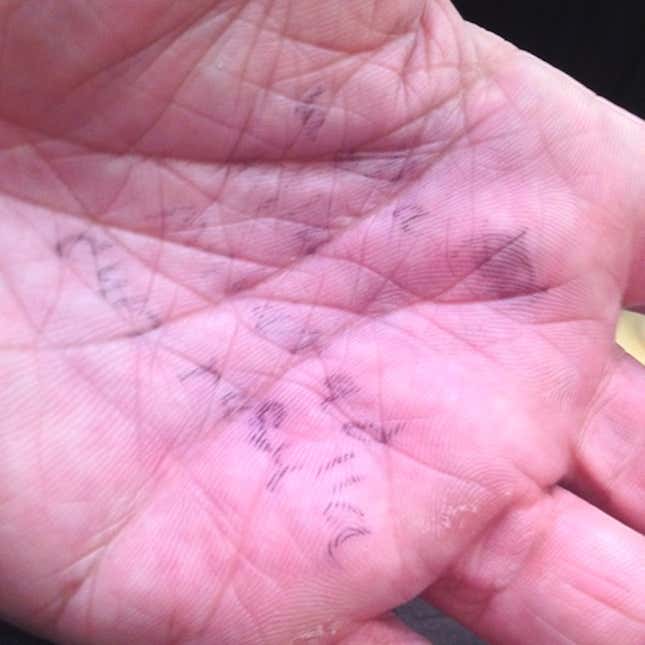 NAIROBI—A rumor was spreading that the shooters would spare the lives of Muslims. Eran Ochayon, like most people at the mall, wasn't Muslim. His friend, hiding elsewhere in the complex, sent him a text message. It was the shahada, an Islamic creed typically recited at daily prayers.
Ochayon, a Jewish businessman from Israel, scrawled the Arabic prayer on his hand in Latin script: "I bear witness that there is none worthy of worship except God, and Muhammad is his servant and messenger." He repeated the line to himself as he hid inside a bank at the Westgate mall, where he was taking out money when the attack began.
The gunmen are believed to be connected to Somali militant group al Shabaab, which is tied to al Qaeda. Al Shabaab said it was taking revenge for Kenyan military action in Somalia. On Twitter the group said, "Only Kuffar were singled out for this attack," using the derogatory term for non-Muslims.
Ochayon hid in the bank for four and a half hours as the militants made their way through the mall. "I was very sure they were going to come in any moment," he said at a nearby community center after police evacuated him.
*  *  *
Chrispinus Maloba saw at least 10 shooters. They were wearing balaclavas, ski masks covering all of their heads but their eyes.
One of them—he had a scarf tied around his head—fired an assault rifle into the store where Maloba is employed as a security guard. The man was shooting indiscriminately but didn't hit anyone.
"Downstairs, there was so much shooting that we thought it was bomb blasts," Maloba said.
*  *  *
"I dived on the floor when I heard the bullets," recalled Rachel Otieno, the hostess at Urban Gourmet Burgers. "I stayed down and crawled. The guy behind me was running and was shot. I don't know if he died or what happened to him."
*  *  *
Kenyan president Uhuru Kenyatta said at least 39 people were killed in the attack and more than 150 injured. He said that close relatives of his were among the dead.
"We shall hunt down the perpetrators wherever they run to," Kenyatta said on TV. "We shall get them, and we shall punish them for this heinous crime."
Kyle Westaway reported from Nairobi and Zachary M. Seward from New York.
Editors' note: The photograph that originally appeared at the top of this piece showed two children standing next to the body of the man seen in the photo above. Reuters subsequently withdrew the image and asked news outlets to remove it, at the request of the childrens' family.