UPDATE 11:07 am ET: Typhoon Usagi has made landfall near Shanwei, China, with the storm's center effectively missing Hong Kong by about 90 miles (150 km).
A Signal 8 storm warning has been raised in Hong Kong, making Usagi one of the worst typhoons in the last 50 years to affect the city—but short of the highest level, a Signal 10. Storm surge of 0.5-1m (1.5-3ft) and sustained winds of at least 63kph are expected in Hong Kong. The latest measurement from Hong Kong Observatory (at 11 pm local time Sunday) showed winds of about 90 kph and a real-time tide measurement of 2.8 m, about 0.6 m above normal. Coastal flooding, strongest winds, and storm surge should peak over the next hour or two, but heavy rains will continue throughout much of the night.
It's not a direct hit, but it's still not as bad as it could have been for Hong Kong. This is essentially a best-case scenario, considering this storm.
Some background from earlier on why a direct hit was actually a good scenario:
Hong Kong is just hours away from meeting Typhoon Usagi, Earth's strongest storm of 2013. The city's best (yes, best) chance of avoiding the worst at this point is for the storm to stay on its current course, which is pretty much a direct hit.
Here's why:
Since typhoons spin counter-clockwise in the Northern Hemisphere, Usagi's strongest winds and heftiest storm surge will be blowing ashore to the right of where the center makes landfall. So Hong Kong will be relatively in the clear as long as Usagi's core passes directly over or to the northeast of the city, which is the most likely scenario at this point. Were the storm to veer a bit to the left and miss toward the west, the worst coastal flooding—which is the the way typhoons typically cause most of their damage—would be directed squarely at Hong Kong and its 7.2 million people.
Usagi has weakened since peaking at Super Typhoon status on Thursday, but the city shouldn't breathe easy just yet: the storm still packs quite a punch. In fact, Usagi may become one of the worst typhoons to hit Hong Kong in the last 50 years.
The latest forecast from the Joint Typhoon Warning Center in Pearl Harbor, Hawaii (a forecasting branch of the US military) calls for Usagi to make landfall near the city as the equivalent of a Category 2 or 3 hurricane, with sustained winds of 105-115mph (170-185kph), and gusts to 125-145mph (200-230kph). Forecasters also expect Usagi's center to pass just 19 miles (31 km) northeast of Hong Kong on its closest approach. The Hong Kong Observatory, a branch of city government, will consider raising its current alert to a signal 8 or 10 (its highest level) later on Sunday.
Ahead of the typhoon, Cathay Pacific and China Southern cancelled all flights coming in and out of Hong Kong after 6pm on Sunday and all day on Monday, Sept. 23. Ferries between the airport and cities in the Pearl River Delta and the gambling center of Macau were also cancelled.
Mainland China is also braced for disaster, evacuating tens of thousands of people and closing shipping lanes between Guangdong and Taiwan, according to the state-owned Xinhua news agency.
As Usagi approached shore, it appeared to enter a last minute strengthening phase, as this satellite-based intensity estimate shows: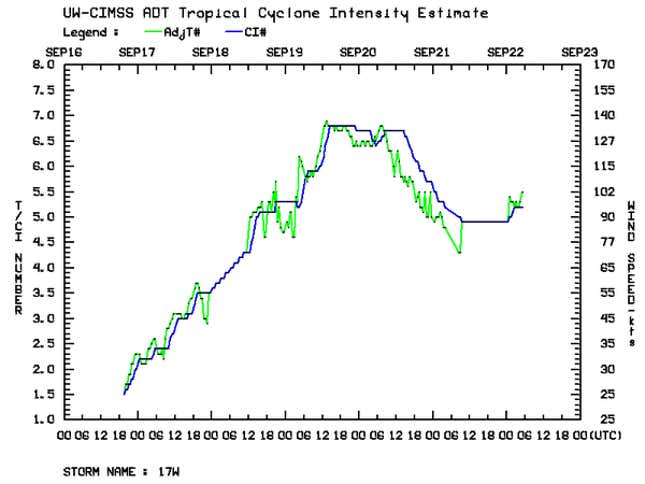 The storm also regained an eye:

Real-time tide gauges in Hong Kong already showed storm surges of about 0.5 meters affecting the city. Since the storm is making landfall around the time of the full moon, tide fluctuations will be even more dramatic than normal. Unfortunately, the storm will make its closest approach near high tide (around 11pm Sunday night, local time), increasing the risk of coastal flooding.
One piece of good news: This last burst of strength appeared to be pulling the storm's center slightly further north of official forecasts, which could go a long way toward lessening the potential impact to Hong Kong, if that trend continues.