So much for demand for a "cheap" iPhone. In the first weekend it was available, the iPhone 5s outsold the 5c by a factor of 3.7 worldwide, says mobile and app analytics company Localytics. Apple hasn't released the breakdown of sales for the iPhone 5s and 5c, and has only announced that 9 million iPhones were sold in the first weekend. Localytics, however, gets data from bits of code inserted into apps on users' phones, which report back data like the model of phone being used. They make for an indirect but reasonably good measure of how many of each kind of phone there are.
One might expect that ratio to be skewed especially heavily towards the 5s in the US, where consumers are richer and the upfront price difference between the two is only $100 when buying them on a two-year contract from a mobile carrier. But in fact the iPhone 5c performed relatively worse against the iPhone 5s in the US, with 3.4 iPhone 5s selling for every 5c. (We've asked Localytics to tell us about the ratio of the two in emerging markets, but haven't heard back yet.)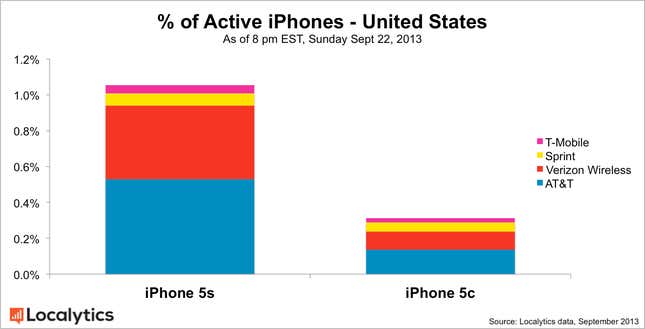 Localytics didn't release absolute numbers for how many iPhone 5s and 5c models its service saw; instead it looks at the proportion of all iPhones in its data that were the 5s or 5c. As expected, sales in the US, as indicated by the proportion of all existing iPhones that the 5s and 5c represent, were much higher than anywhere else in the world.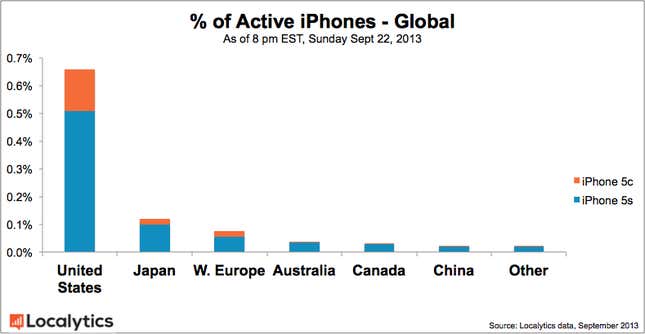 And the network with the biggest sales of those iPhones was AT&T.