It only took a millennium, but a formerly secret Slavic martial art has received a new appreciation outside of Russia and throughout the West.
After working in eastern Ukraine, photographer Jen Osborne realized she needed to learn some sort of practical self-defense if she ever wanted to work in a war zone again. Through a friend, she was encouraged to learn Systema.
Systema practitioners trace its history back almost 1,000 years, when it was initially developed by Cossack armies defending themselves from invaders. It has gone through different mutations and versions through different eras of Russian history, and in a post-Cold War era, is finding a new audience around the world. Osborne describes new practitioners (herself included) as drawn to both the balanced, low-impact self-defense methods, as well as its usefulness in disarming attackers carrying weapons.
Osborne ended up learning from Alexandr Maksimtsov, a Kazakh-born pracitioner who fought organized crime with an elite Ukranian police unit in the post-Soviet 90s. Attracted to the fluid motions of Systema, he used it in his police work until 2006, when he left the force. He's since left Ukraine (he mostly resides on Tenerife in the Canary Islands) but returns every year to train students in Systema.
On a 2017 visit to Ukraine, Osborne documented one of Maksimtsov's training programs. He trains police recruits, martial arts enthusiasts, and prospective Systema instructors. One of Maksimtsov's protegés, Svetlana Guziy, provided the explanations for the techniques demonstrated in each photo.
These descriptions have been translated and lightly edited.
"This exercise takes place with [its participants] in a line blindfolded or with their eyes closed. The first guy is allowed to see where he goes, and he typically chooses a difficult path, and the rest need to follow by feeling the shoulders of their comrades. This is how you train trust for each other."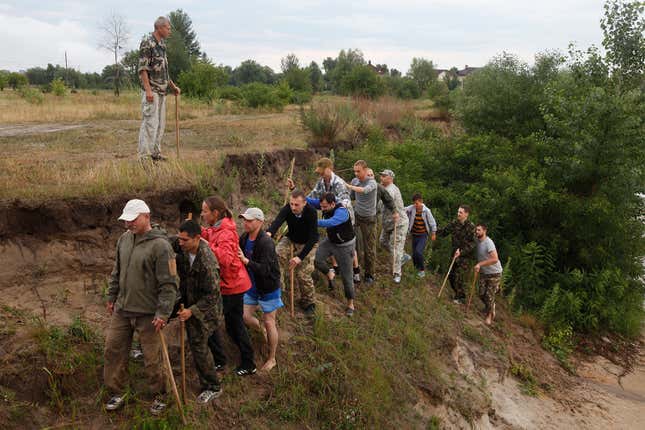 "Two groups of guys have sticks and make two lines, leaving a passage in the middle. A pupil goes ahead through the passage while the others move their sticks (top to bottom) to potentially hit the pupil. The pupil has to use moves to avoid the stick, to somehow fit along with the movement of the stick to avoid it. To fit into this movement, you have to use all your entire body to either smoothly step through or crunch and twist. "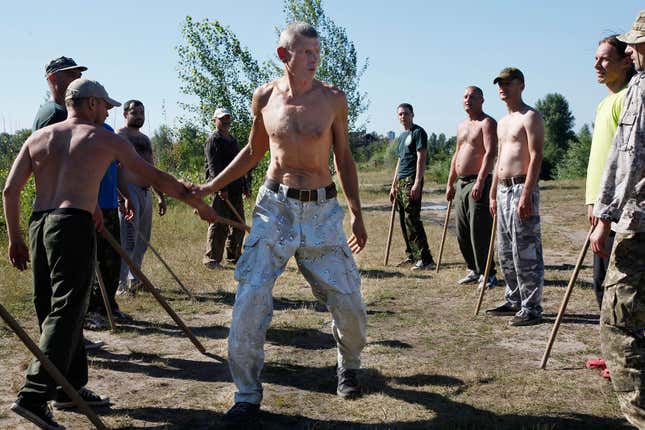 "You can basically call this movement 'refinement'. This could also be translated like 'finish'. It is a combination of strikes, rotation and squeezing the enemy's body. It's used to immobilize the enemy. It's like a human handcuffing of the enemy."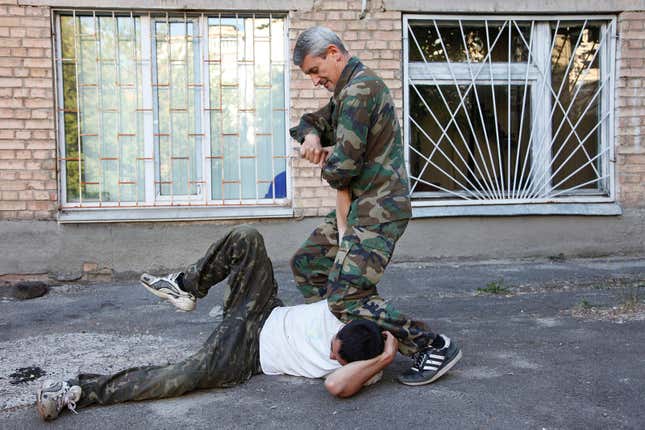 "This is a combination of movements, that displaces the body's center of gravity to avoid the trajectory of a bullet."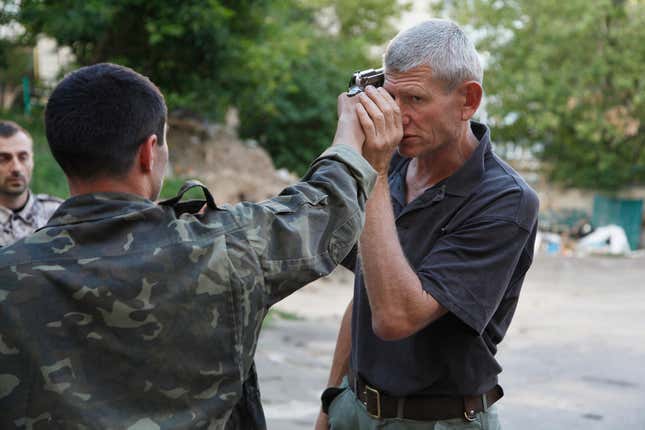 "A relaxing position for the body. This helps you understand your own body and the limit of your pain. It also gives a massage of your internal organs."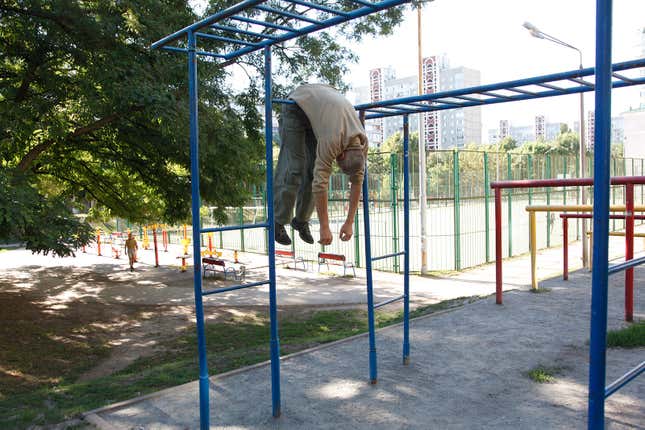 "Acrobatics. Rolling down the stairs to avoid trauma to your body."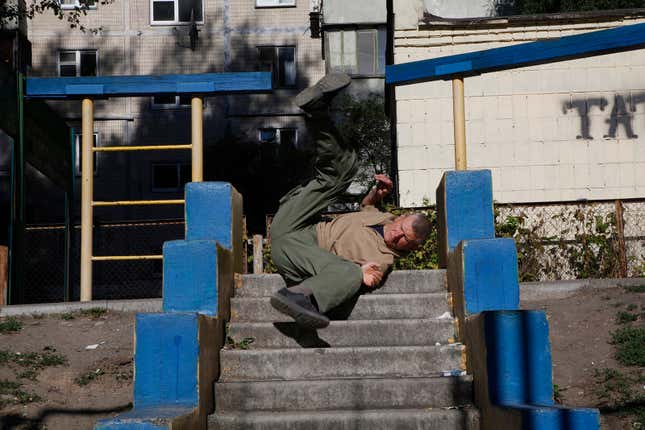 "A difficult grip of the neck from behind. With proper use, he will faint in one minute if you do this correctly. You push on his carotid arteries in his neck and the blood stops flowing to his brain."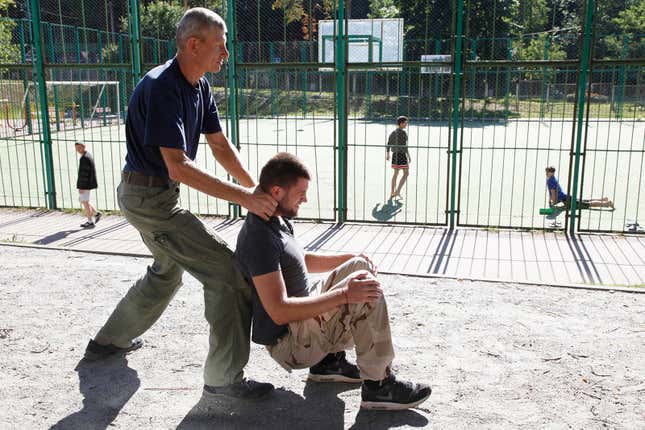 "This move is keeping the enemy on his stomach. It allows the student to keep the enemy in position and retrieve the stick out of their hand."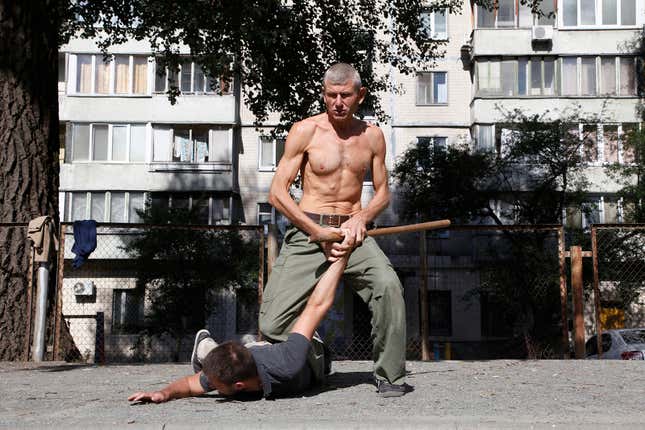 "'Convoying' is a complex group of movements that keep the enemy in position where he is in pain and can not resist. They cannot struggle or retaliate but he can walk on some distance. It's used for taking the guy to the police car or station easily."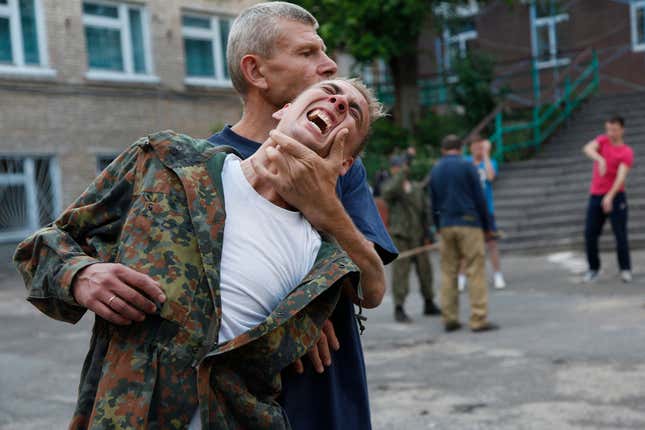 "This position allows you to develop a sense of balance and the ability to properly stretch and relax the muscles of the body."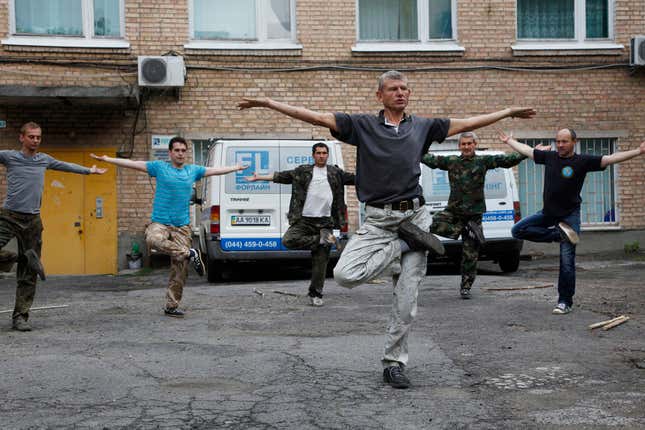 "This position uses the pressure points to lock an opponent in a painful position so they cannot retaliate. This position shoots and electric surge of pain up through the arm into the body."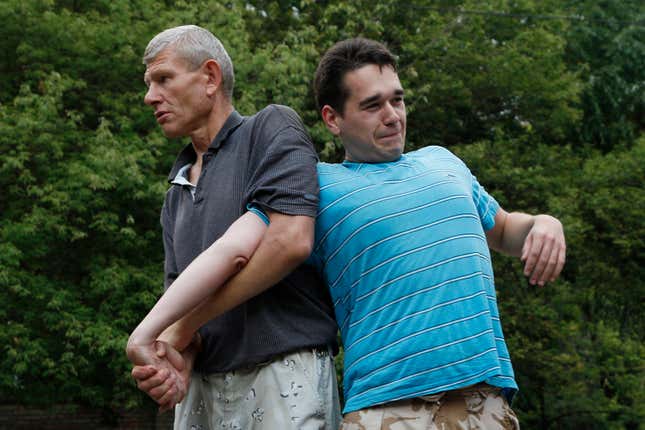 "This movement combines a sense of balance and the ability to properly stretch and relax the muscles of the body along with activating your balance, orientation in space, and tactile sensations. One pupil ends up on the other pupil's back, so the pupils must balance together to support each other. It is equally hard work for both."