The world's most expensive 16-gigabyte iPads sell for more than $1,000 on average in Argentina, over $200 more than anywhere else in the world, and double the price of the Apple-made tablet in the US. And yet, compared to the price people are paying for the latest iPhones in Argentina, that's actually something of a bargain.
Apple's new iPhone 5S, which retails for anywhere between $649 and $849 in the US, depending on size, is selling for as much as 20,000 pesos ($3,500) on Mercado Libre, Argentina's equivalent to eBay. Take a look:

The cheaper iPhone 5C, which retails for $549 in the US, is off-the-charts expensive, too. It's currently selling for as much as 13,000 pesos on Mercado Libre.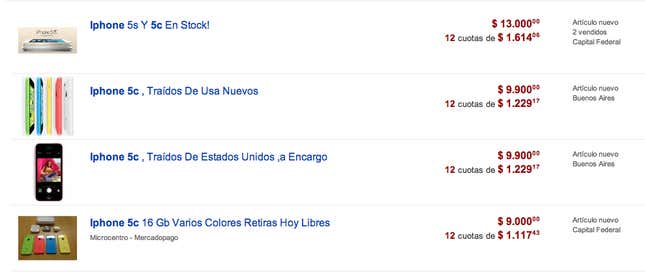 When Apple rolled out the red carpet for its new iPhones last week, it did so by selling the company's latest mobile gadget in a total of 11 countries around the world. But Argentina wasn't one of them. In fact, when apple starts selling the iPhone 5S and 5C to an additional 100 countries this December, Argentina won't be one of them, either.
Why? Much like with Argentina's iPad mark-up problem, the country is battling with protectionism.
In 2009, Argentinas' government enacted a protectionist industrial policy (paywall) meant to help create high-skilled jobs in the country. The legislation gave massive tax breaks to companies willing to assemble their products in Argentina's Tierra del Fuego region and hit the unwilling with a hefty import tax on their products. Blackberry and Samsung, (Spanish link), along with Nokia and Lenovo Group were among the electronics companies that obliged. But Apple didn't.
As a result, the company hasn't been able to sell its iPhones in the country (link in Spanish). And only Apple-crazed Argentines who can afford to travel overseas or shell out over $3,000 on Argentina's secondary market can get the new iPhone.