When you think of the US Securities and Exchange Commission, "fun" isn't the word that usually comes to mind. That's especially true when it comes to its approach to initial coin offerings (ICOs), which are increasingly in the agency's crosshairs for serious enforcement actions.
But this week the watchdog staged a fake ICO to warn investors about the risk of getting duped. Parody is a risky genre for a securities regulator, but the effort was mostly applauded by Redditors and crypto Twitter (which are pretty tough crowds).
Companies have raised billions of dollars in recent years via ICOs—more than $6 billion in the first quarter of this year alone—which resemble a form of crowdfunding turbocharged by cryptocurrency speculation. Even Vitalik Buterin, founder of the ethereum network that forms the underpinning for many ICOs, praised the SEC's gambit:
The mock HoweyCoins ICO—a nod to the so-called Howey test that helps determine whether an asset qualifies as a regulated security or not—was "launched" yesterday. "We embrace new technologies, but we also want investors to see what fraud looks like, so we built this educational site with many of the classic warning signs of fraud," SEC Chairman Jay Clayton (pictured above) said in a statement. The SEC used a similar tactic in 2002 to educate investors about stock market scams.
The website looks pretty legit. Celebrity boxer endorsement? Check. Anxiety-inducing countdown clock? Check. Vaguely written, content-free "white paper"? Of course (pdf).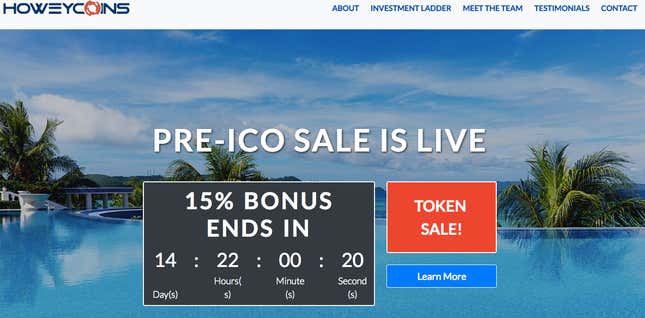 When you click "Buy Coins Now,"  you're let in on the ruse and taken to a page that describes five red flags to watch out for when considering investing in an ICO:
Claims of high, guaranteed returns: Most fraudsters try to convince targets that the scheme is a "can't miss" opportunity.
Celebrity endorsement: "It is never a good idea to make an investment decision just because someone famous says a product or service is a good investment."
Claims of SEC compliance: Many trading platforms call themselves "exchanges," which gives the (incorrect) impression that they are regulated or meet the standards of a national securities exchange.
Invest with a credit card: Licensed investment firms generally don't let customers use credit cards to buy investments.
Pump and dump scams: In these schemes, scammers spread misleading information to create a buying frenzy that will "pump" the price of an asset higher, allowing them to "dump" it by selling their own shares at the elevated price.
The SEC pointed out that it was able to build the mock ICO website very quickly, highlighting how easy it is for scammers to manufacture such a scheme. That seemed to be one of the few quibbles from Reddit connoisseurs, one of whom argued that the website was a bit corporate, lacking the hipster touch and "the stupid effects ICO webdevs put on." The SEC still can't be accused of being cool, but it has pitched its warning about crypto scams in an almost perfect way.