If you're in the market for a brand-new smartphone, but don't necessarily want to splash out upwards of $1,000 for the latest phones from Samsung or Apple, there's never been a better time to buy a more affordable device.
OnePlus, the phone-maker with ties to a massive but relatively unknown Chinese consumer electronics company, has been cranking out impressively built and relatively low-cost phones for years. Its latest offering is the OnePlus 6, which starts at $529, €519, or £469, depending on your region. Like many of the company's offerings before it, the OnePlus 6 can go toe-to-toe with phones from more established manufacturers, although some compromises have to be made along the way to keep the price down.
Are the trade-offs worth the savings? Here's a quick run-down of our thoughts after using the phone for a couple weeks:
What's good
Decent battery life. The first weekend I had the OnePlus 6, I forgot it at work on Friday when it had about 50% battery, and came back on Monday to see it still had about 35%. It can last well through a day's usage, and the quick-charging technology built into the phone means it should have enough juice to last an entire day from just a half-hour charge.
It's a OnePlus. There are many little delightful design features OnePlus has introduced over the years. It was one of the first phones to have a function to tap to wake up the screen. It runs a clean, almost untouched version of Android. It has a three-way rocker button that toggles between silent, vibrate, and ring.
It's big. The phone features a massive 6.28-inch AMOLED display, meaning you won't go blind using the OnePlus 6 as your only screen on commutes, trips, or even on the couch.
It still has a headphone jack. Unlike most other major phones on the market these days, OnePlus still puts a regular headphone jack in its phones. The company also recently released a decent, if slightly awkward, pair of wireless headphones, which does seem to suggest that it may eventually kill the headphone jack too.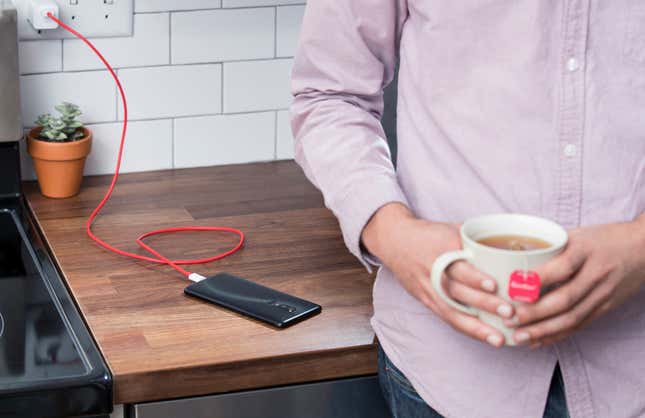 It's still quite cheap. The OnePlus 6 is more expensive than previous models. The OnePlus 3, for example, started at $399. But it's well below many comparable phones, like the $850 Google Pixel 2 XL, the $700 LG G7 ThinQ, or the $800 Sony Xperia XZ2.
Quick unlock. The sensors included in the front of the phone offer a face-unlock function that's like a boiled-down version of the FaceID feature on Apple's iPhone X. It's not quite as reliable as Apple's technology, nor as secure, but still pretty speedy when it works.
It looks kind of like an iPhone X. I don't know if this is necessarily a good thing, but perhaps you're the kind of person who wants people to think you're fancier than you are. It seems like a trend in phone making right now.
What's not so good
No wireless charging. The OnePlus 6 has a smoothed glass back. But that feature is not, like the back on the iPhone X, iPhone 8, or Samsung Galaxy S9, to enable wireless charging—instead it's mainly just because the designers thought it looked and felt nice. The phone is potentially a fair bit more breakable than its predecessors (which mainly had sturdier, plastic backs) and there's no added benefit of wireless charging.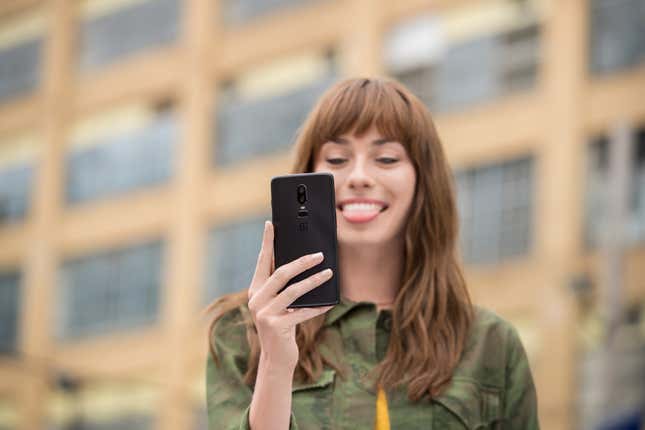 It's not waterproof. Many of the competing phones are water-resistant, and OnePlus has not figured out for the 6.
Unlocking can be annoying. The fingerprint reader on the back of the phone seems to only work when I place my finger in a very specific way, and although the face unlock works quickly, I'm not sure I'd feel comfortable relying on it to secure all the information in my phone. Which leaves you with the standard Android pin or pattern inputs to lock the device.
Copycat design. As much as OnePlus likes to tout its uniqueness as a differentiator in crowded markets, there isn't a whole lot about the design that feels unique. The front looks like an iPhone X, and the back of like a Samsung Galaxy S9+:
It's big. Although having a large screen is lovely, the OnePlus is a cumbersome device to keep in your pocket, as all the larger smartphones are. But OnePlus doesn't offer multiple sizes for the 6, unlike some of its competitors.
The camera is fine. On a clear day, the photos the OnePlus 6 can take look very good, as you'd expect from any decent modern smartphone at this point. But the dual 16- and 20-megapixel rear cameras aren't as sharp as many of the cameras their competitors offer.
But the camera sometimes adds odd coloration to photos, and the portrait function wasn't as sharp as what other dual-camera phones can do:
Consider how much having the absolutely best smartphone camera means to you, instead of just a quite good one.
Should you get one?
The OnePlus 6 is a great phone for its price in 2018. But if you have the ability to shell out more, there are better phones out there. And if you're looking to save some cash, there are other phones, like Nokia's, that are even cheaper and provide a very fine smartphone experience. This phone isn't likely to win over any Apple converts. But if you have a budget of about $500 and you're after an Android phone, there's not much better out there for the price.