Barcelona
While Apple rarely shows up—publicly at least—to trade shows like Mobile World Congress (MWC), its presence is still felt.
Apple's latest smartphone, the $1,000 iPhone X, has been on sale since November, and it seems that more than a few mobile manufacturers have been busy copying one of the most-derided aspects of the phone's design: the notch that houses its front-facing cameras.
Wandering around the more far-flung halls of MWC in Barcelona this week, I came across several smaller companies actively copying Apple's awkward design. Take this one from Shenzhen-based Oukitel, whose representative proudly told me that the company was the first to mimic the iPhone's design: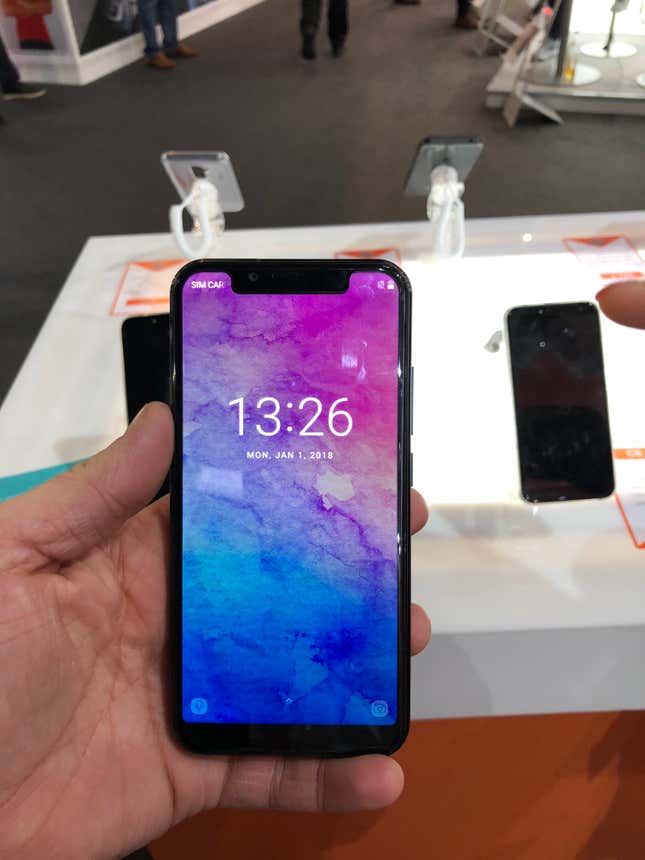 The phone, called the U18, is marketed with the succinct tagline, "Best for future!" On Alibaba, it can be yours for just $160. (Plus, it has a far larger battery than the iPhone X itself.)
I then saw this knock-off (notch-off?) from Leagoo, a Chinese company that makes a big deal out of its sponsorship of English soccer club Tottenham Hostpur. The S9 phone, which confusingly shares the same name as Samsung's newest phone, also claims to be the "first Android notch display."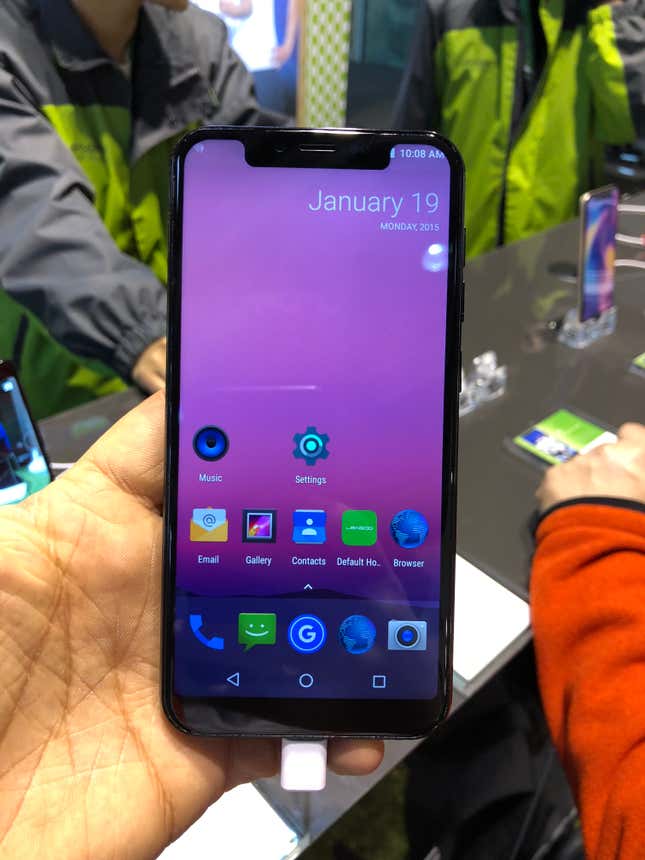 Being first isn't always best: the notches on these phones are not accounted for by the Android operating system software, meaning notifications and other information at the top of the screen are simply cut off. If that doesn't bother you, this particular S9 can be yours for around $150.
Up next was this plastic copy of the iPhone X that even appears to re-skin Android to make it look like iOS. It's made by a company called Blackview (parent company: Shenzhen Doke Electronic Company). No one around the booth seemed to want to tell me anything about it, so I moved on.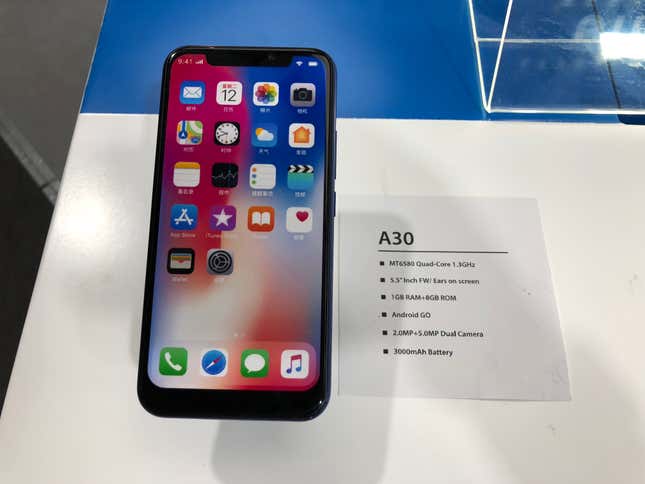 This one from French manufacturer Wiko took a creative approach to notching, achieving a cross between Google's most recent phone and the Essential phone. The View 2 Pro will sell for €299 ($365) when it's released later this year.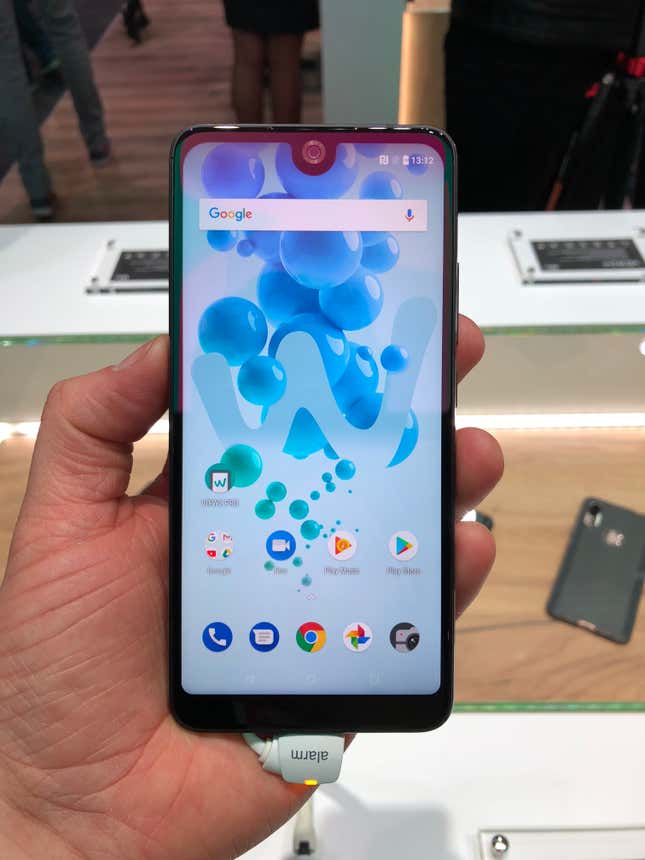 Perhaps the highest-profile notch unveiled at MWC came from Taiwanese consumer electronics company Asus. At a press conference yesterday announcing the ZenFone 5, one of the selling points it touted was that its notch is slimmer than a certain "Fruit Phone:"
The new Asus copies directly from Apple's design book, although the device is a bit larger. (It has a 6-inch display, whereas the iPhone X's is 5.8 inches). Huawei may outdo it when it announces its latest smartphone next month, it seems.
CNET called Asus's latest model "an iPhone X on the cheap," but argued that that's not necessarily a bad thing.
Why, though, is Apple's notch worth copying at all?
None of the other major smartphone manufacturers that released or announced phones this week felt the need to add a notch to their devices. Samsung's phones have massive, sharp displays, iris scanning, and even weird 3D selfies like the iPhone X, all without a notch. For many manufacturers, it seems that copying the designs of the most profitable smartphone company brings positive associations that outweigh any attendant compromises.
"Some people will say it's copying Apple, but we cannot get away from what users want," Marcel Campos, Asus' global head of marketing, told The Verge. "You have to follow the trends."
Apple tends to draw praise for devices that often copy ideas from others, and it also gets credit when others subsequently steals those ideas. It's a win-win for the company, which just reported its best quarter ever, unfazed by the budget handset makers ripping it off. Indeed, the growing ranks of lookalike phones have done little to dent enthusiasm for the iPhone line, which has been getting more and more expensive as time goes on.