As Facebook reels from the Cambridge Analytica scandal and gears up for GDPR in Europe, the company is attempting to bolster its image as a responsible tech company. Case in point: an 11-minute short film all about its efforts to fight fake news.
To make the film the company hired director Morgan Neville, who won the 2014 Academy Award for best documentary feature for 20 Feet From Stardom. It features several Facebook employees discussing the difficulties of combating the many types of misinformation on the platform. It's heavy on whiteboards and bullet points, if not particularly clear on the specifics.
At one point, Eduardo Ariño de la Rubia, a data science manager at Facebook, draws a quadrant with four categories:
"Wrong" information, which is untruthful and not intending to mislead
"Right" information, which is truthful and not intending to mislead
"Propaganda," which is truthful but intended to mislead
"Hoaxes," which are both untruthful and intended to mislead.
For propaganda, he says, "Because of our commitment to free speech, everything we do here has to be incredibly, incredibly careful." For hoaxes, "We have to get this right if we are to regain people's trust."
In another section, product manager Tessa Lyons outlines three other categories: bad actors, bad behavior, and bad content. "One of the things we have to figure out is how do we work across this complex space to ensure that the teams who are fighting fake accounts, the teams that are fighting spam, and the teams that are fighting misinformation are coordinating and understand how best how to leverage each other's technology and each other's understandings," she says.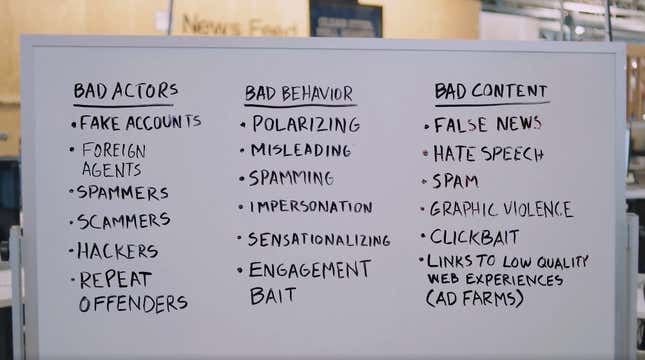 The film comes alongside two other initiatives Facebook is launching to show how it's proactively combating misinformation. It's launching a public awareness campaign, through media including print ads, that will instruct people how to spot fake news. And it's also commissioning research from academics on fake news.
It seems unlikely that the film and these other outreach efforts will do much to dissuade lawmakers looking to regulate the company. This week, members of the European Parliament grilled CEO Mark Zuckerberg on issues including both censorship and fake news on the social network, with one member suggesting that Facebook is a monopoly that ought to be broken up.