Planning for that "canceled" summit between Donald Trump and Kim Jong Un couldn't be busier.
South Korean media today (May 29) reported that general Kim Yong Chol landed in Beijing to transit to New York on a flight scheduled for tomorrow (May 30), where he's expected to meet with US secretary of state Mike Pompeo. That would make Kim the highest ranking North Korean official to visit the US since 2000. Kim Yong Chol and Pompeo also met in Pyongyang earlier this month.
Donald Trump confirmed the visit in a tweet Tuesday.
Kim, a vice chairman of the central committee of North Korea's Workers' Party of Korea, also led a delegation to South Korea for the closing ceremony of the Winter Olympics in February, where he rubbed shoulders with Ivanka Trump, Donald Trump's daughter.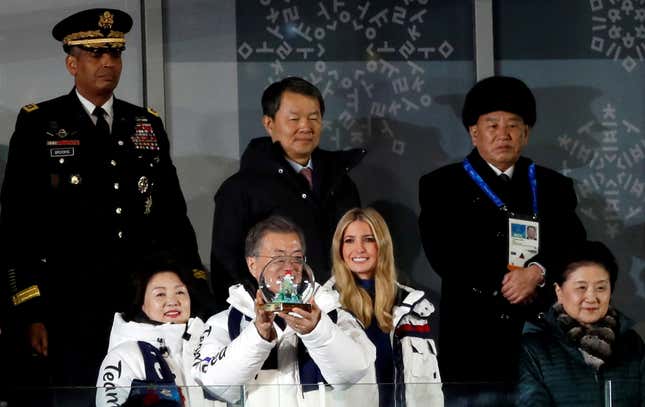 His visit to South Korea was received with strong criticism from opposition parties. The 72-year-old, who previously headed North Korea's Reconnaissance General Bureau spy agency, is suspected of being the mastermind behind two major attacks on the South in 2010, including the sinking of a warship, which killed 46 sailors, and the shelling of an island, which killed a handful of soldiers and civilians. Kim is blacklisted by both the US and South Korea.
In the recent summit at the Demilitarized Zone (DMZ) between the leaders of North and South Korea, Kim was also part of the North Korean delegation.
Trump wrote a letter last week informing North Korea that the summit between the two countries, slated for June 12 in Singapore, was off—but that seems to have spurred all parties to step up their diplomatic efforts. Days ago, South Korean president Moon Jae-in held a surprise meeting on the north side of the DMZ with Kim Jong Un, prompting Trump to respond that the US was considering "reinstating" the summit. After that meeting, the US sent a delegation headed by veteran diplomat Sung Kim to meet with North Korean officials at the DMZ. Talks are also being held in Singapore between the US and North Korea, led by White House deputy chief of staff for operations Joe Hagin, and Kim Chang Son, Kim Jong Un's de facto chief of staff.