It appears Venezuela isn't pumping out nearly as much oil as it claims.
According to the latest monthly report (pdf) released by the Organization of the Oil Exporting Countries (OPEC), Venezuela's state-owned oil company Petróleos de Venezuela S.A. (PDVSA) is making a habit of reporting production levels well above secondary source estimates. This past August alone, the country's state-owned oil company reported outputs of roughly 2.8 million barrels a day, nearly half a million barrels above (Spanish link) outside estimates of closer to 2.35 million.
While Venezuela is by no means the only country for which OPEC has noticed discrepancies between national and outside estimates of local oil production, its fibs are among the world's most egregious. Only Iran, which exaggerates its oil production by closer to a million barrels a day, has proved to be a bigger liar.
Why is the oil-rich South American country telling tall tales? Probably because it can't boost oil production, which is often used as a proxy for the country's economic health. The country sits on what's believed by many experts to be the world's largest oil reserves. While oil still accounts for the majority of the Venezuelan government's income, it has been struggling to up its output. Only two years ago, Venezuela ranked as the world's third largest producer of crude oil; today, the country has fallen to sixth place, having been overtaken by Iraq, Kuwait and the United Arab Emirates. Tacking 400,000-plus barrels of oil onto its actual production levels equates to a multi-billion dollar boost for the country's balance sheet.
Venezuelan oil production has fallen even more dramatically since the early 2000s: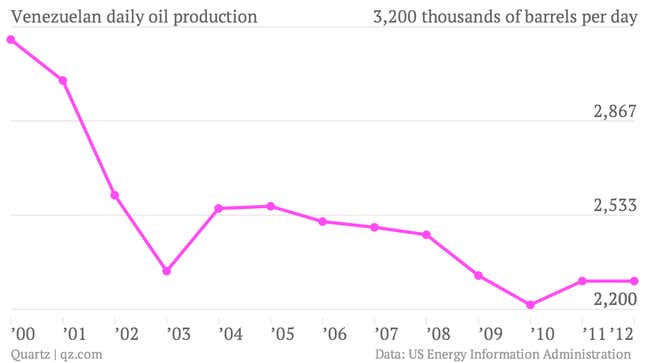 The timing couldn't be worse, considering that developing countries, including the likes of China, Brazil and India, are hungrier for foreign oil. Brazil, which isn't currently a member of OPEC, may even soon overtake Venezuela, if it hasn't already. The fast-growing country is expected to produce about 2.6 million barrels a day by this year's end.
A reckoning could be on the horizon. Venezuela's oil imports, which are harder for the government to fudge, have jumped 43% over the past 12 months. Rising imports will make it harder for the government to sell foreign investors and the Venezuelan public on the idea that oil output is rising, too.