Bill Gates loves to give the gift of reading to aspiring adults—especially if that reading contains a hopeful outlook for humanity based in science and reason.
Last year Gates said on Twitter that the one gift he'd give any college graduate was Steven Pinker's The Better Angels of our Nature, a book that argues violence has declined across the history of human civilization. This year's graduation season the philanthropist and Microsoft cofounder has another recommended read: Factfulness: Ten Reasons We're Wrong about the World—and Why Things Are Better than You Think, by the late Swedish academic Hans Rosling, written with his son and daughter-in-law, Ola Rosling and Anna Rosling Rönnlund.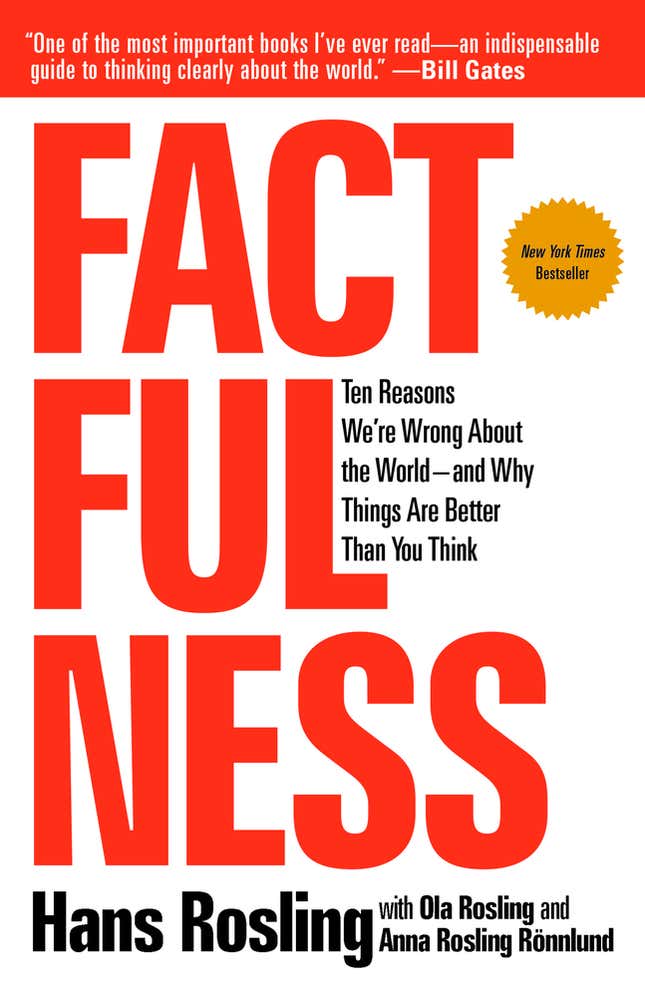 "This is data as you have never known it: it is data as therapy," Rosling writes in the book introduction. "It is understanding as a source of mental peace. Because the world is not as dramatic as it seems."
Gates is so keen for grads to adopt Rosling's fact-based worldview and to bask in the glory of human progress that he's giving the book away for free to all US grads. The download starts today (June 5) at 8am US Pacific time, and will be available for a few days.
Anyone who graduated from an accredited US college or university in 2018 can go to Gates' blog and (after registering) download a free digital copy of Factfulness. The files comes in EPUB format, so Kindle users will have to convert it to MOBI.
The screening process isn't particularly rigorous—just a drop-down menu of college names—but the second richest man in the world probably isn't overly concerned about fraudulent downloads of a book about fighting bias.