Government subsidies for businesses, you can love them or you hate them. But quibbling over who takes advantage of them misses the point.
Jalopnik reports that Alphabet's self-driving car unit, Waymo, is positioned to collect up to $465 million in US tax credits if it completes the purchase of 62,000 Chrysler Pacifica-model part-electric minivans. It's the result of a US government policy to offer a tax credit up to $7,500 for each vehicle purchased.
It may feel unsavory to give a subsidiary of one of the richest companies in the world cash handouts, but it's no different than doing the same for individual consumers. Without the credit, Waymo would have been less inclined to commit to such a large purchase of vehicles, which it intends to use as part of a self-driving taxi service.
The tax credit is available to consumers and businesses, and can be collected without limit until an automaker's cap is reached. Any car meeting the clean energy criteria sold in the US since 2010 is eligible until the manufacturer cumulatively sells 200,000 qualifying cars. Fiat Chrystler has about 169,000 cars left under its cap, according to EVAdoption.com. As such, the cost of this program to taxpayers is effectively fixed. The total cost of the subsidies to taxpayers is the same whether Waymo makes the purchase or individual consumers.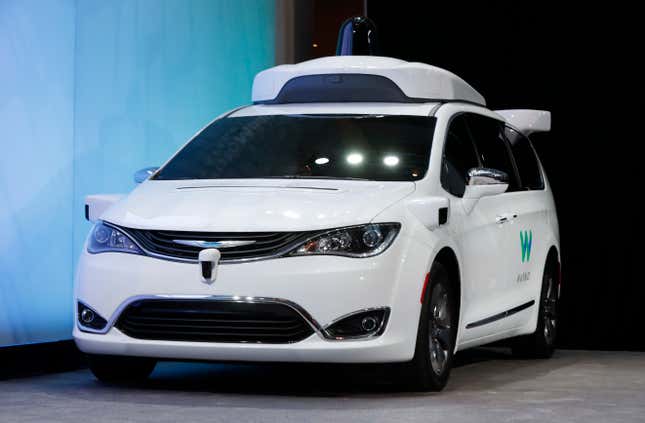 While the credit might feel like a subsidy to US auto buyers—it's claimed on an individual's tax return after all—it's actually a subsidy to car manufacturers, who still collect the full sticker price of the car. Waymo is not a multinational company siphoning away a benefit intended for consumers. It's simply an economic actor taking advantage of an incentive intended to support the development of low-emission vehicles.
Such subsidies are meant to help manufacturers develop economies of scale and efficiencies needed to fully support plug-in car manufacturing. Once the subsidies run out, policy makers hope the automakers will be able to offer low-emission cars at a price competitive with fully gas-fueled cars. A bulk purchase is exactly the type of action to speed this along.
From a public policy standpoint this seems to be the best possible outcome. Instead of a carmaker getting a slow drip of incentives from consumers buying cars over many years, the carmaker gets a huge order that helps it develop the economies of scale that the government policy hoped to produce. Building cars at a mass-market scale is capital intensive. It's also operationally complex: Just look at Tesla's mad scramble to get its Model 3 production going.
Of course in the end you need to have taxable income to use a tax credit. Waymo is not known to be generating any revenue, according to Jalopnik, let alone profit. But the tax wizards at Alphabet can probably figure that out. And it would be just fine.