TV owners have all experienced this moment: Right when you're about to watch something, the remote control seems to have evaporated. You pull off every couch cushion and look under every seat until, at last, you spot it. Except wait, that's just the remote for a DVD player you haven't used since 2009.
As smart and useful as our TV sets have gotten, how we interact with them remains quite dumb. Companies have tried to make remotes simpler to use by paring down their numerous buttons, or partially replacing them with other input methods. For a while, Samsung thought it was a good idea for us to wave at our TVs, and Apple added a trackpad to its remotes. But the most compelling idea has always been simply telling our TVs what to do.
Today, Amazon introduced the Fire TV Cube, a potential death knell for the TV remote. The (surprisingly pointy) box combines Amazon's existing streaming technology with Alexa, the voice assistant found in its massively popular Echo devices. The $120 Cube can connect to TVs, sound bars, cable boxes, and other streaming devices, and owners can use Alexa to control every aspect of their TV-viewing experience. It's Amazon's answer to the Apple TV, the Roku Ultra, and other high-end streaming devices.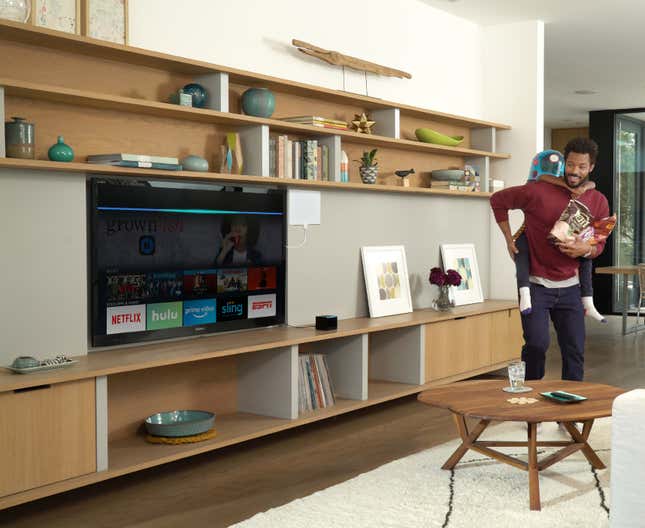 Say your TV is off (the Cube is still on, sitting silently until called upon, like an Echo). You could say, "Alexa, turn on The Handmaid's Tale on Hulu," and the Cube will power on the TV, connect up to the streaming service, and start playing the show from where you left off. No more scrounging around for a remote—Alexa can find and access anything on any of your connected devices, even cable channels. Users can ask Alexa to scroll through content, pause, play, or return to the main screen.
The Cube also has many standard Echo functions, optimized here for the a larger screen. Asking for movie showtimes, the weather, or facts about a person will show the results on the TV, as Alexa narrates them. The device can also control other smart-home devices, and be used to set up automation routes. For example, you could set one up where you say, "Alexa, good morning," and the Cube turns on all the smart lights in your home, turns on the TV to your favorite news station, and perhaps even starts brewing some coffee in your internet-connected carafe.
For now, there are still some functions that require using the remote that comes bundled with the Cube. When setting up accounts on the device, like Netflix and Hulu, it's easier to use the remote to type in passwords and account names than to dictate to Alexa. Certain apps, like Netflix, also lack deep integration with Alexa at launch, meaning they may prove easier to navigate with the remote.
But the device hints at a future outlined in so many science-fiction movies, where interacting with our smart devices is as easy as talking to a person. Hopefully, Alexa will still open the pod bay doors for us.