As the saying goes, "cash is king." Well, not anymore in Britain.
For the first time, electronic debit card payments outnumbered those with physical money last year, according UK Finance. The trade association credits the rising popularity of contactless payments, as well as smartphones and online shopping, as reasons for the shift.
Consumers in the UK made 13.2 billion payments via debit card in 2017, compared with 13.1 billion using cash. Contactless payments surged, jumping 97%, to account for 5.6 billion transactions, according to the report. The supermarket was the most popular place for people to tap their contactless cards, accounting for 38% of all such payments.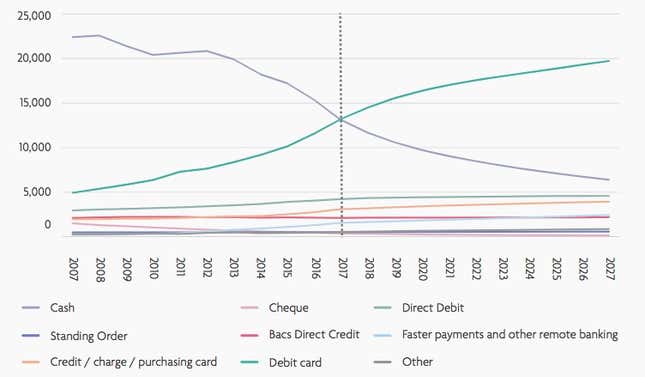 Cash, of course, is far from dead, although projections in the UK Finance report predict a continuing decline. While payments using physical notes and coins fell 15% last year, it was still the second-most popular method to pay for things, accounting for 34% of purchases. More than 3 million people almost never used cash, but 2.2 million still predominantly use physical money.
How people pay for things has a deep cultural component—Germans famously prefer to buy things using bills and coins, while the Swedish have just about given up on it. Brits, meanwhile, love their debit cards—about 98% of UK consumers have one. Debit card payment volumes are projected to increase by more than any other payment method during the next decade, rising almost 50% to 19.7 billion payments.
The global public's growing appetite to pay electronically is a tailwind for fintech upstarts that are designed for the new landscape. Shares of Dutch payment-processor Adyen jumped more than 90% on their first day of trading last week, giving the company a market capitalization (paywall) of about €12 billion ($13.9 billion), right about the same level as Commerzbank, Germany's second-biggest lender.
But the biggest challenge is having infrastructure keep up with the change in consumer habits. For example, when Visa's payment system melted down across Europe earlier this month, it underscored the sector's need to improve its safeguards against tech failure and cyber attacks. In times like that, it reminds people that cash is readily available when other methods fail.