It's hard to classify the sound of New York City alternative rock band VHS Collection except to say that whether you're catching one of their justifiably hyped sets at Austin City Limits or listening to their songs on Spotify—where their 2015 track "Fire" hit number seven on the Viral 50 chart and their music has been streamed nearly 50 million times—you're likely to be singing along.
The trio's synth-rock music reminds a lot of their fans of the '80s, but it's also of the moment: brooding and urgent, with lots of other things besides. The soaring vocals, lush harmonies, massive drum fills, and lyrics that tug at all the feels (love, alienation, running away from it all) are pitched in a way that sets people in motion.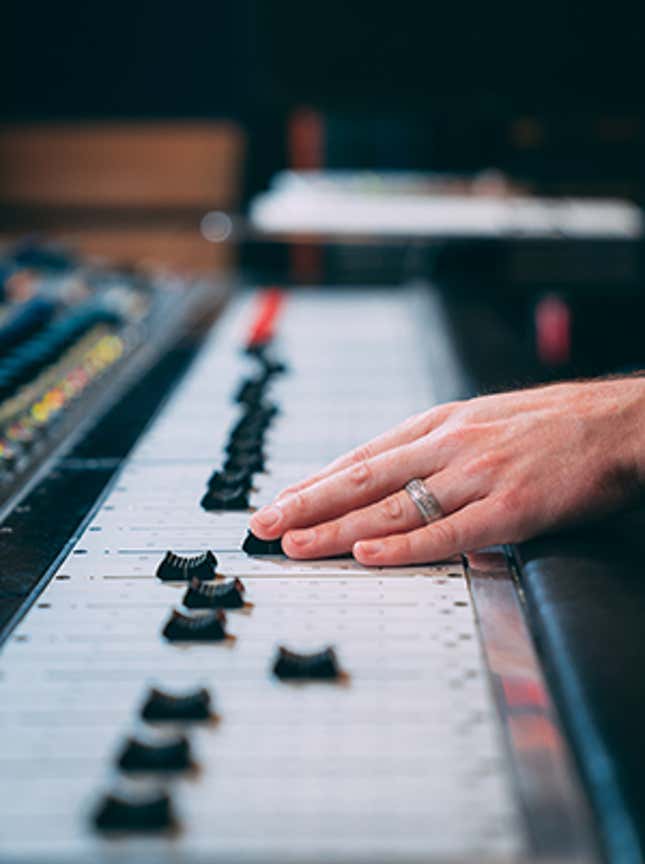 "We like big choruses and traditional songwriting that's both nostalgic and emotional—that moves you," says lead singer James Bohannon of the band's retro-but-not music during a recent photoshoot at a recording studio in Williamsburg. "We want a beat and we like experimental sounds."
The trio of native New Yorkers have counted each other as friends for years. Bohannon and guitarist Conor Cook grew up across the street from each other in Manhattan, while keyboardist Nils Vanderlip and Bohannon were in a "not great" band together in high school, says Vanderlip. The group has released two EPs since forming in 2015. VHS Collection's first full-length album comes out this year, with tracks produced by London veteran Chris Zane, who has worked with Passion Pit and St. Vincent, and Tony Hoffer, who has produced and mixed artists like M83, Beck, and Phoenix.
Unsurprisingly in the digital age, much of the band's time "together" is spent exchanging 10-second snippets of new songs via text and email. Every so often they retreat to Cook's father's cabin in upstate New York for marathon creative and jam sessions. "We'll all be in the room and actually write together," says Vanderlip. "There's a cord of wood and no other people, a lot of beards and a lot of anger," jokes Bohannon, the band's man of words and master of ceremonies.
The biggest score for the guys, though, after months of writing on their laptops and recording in basement studios, is finally getting back on the road for their current tour, which has taken them to Washington DC, Chicago, and most recently, the storied Mercury Lounge on the Lower East Side, "our cathedral," as Bohannon calls it.
"We've been focusing on the album for so long," he says. "The writing, the crafting, the diving in, the in-studios—you're in basements. But playing live, you're getting to do what you want to do. People are screaming for you to do what you love to do. Is there anything better than that?"
Probably not, although in San Francisco, where they played the Rickshaw Stop earlier this summer, their van was broken into and guitars, cameras, computers, and a hard drive with months' worth of songs on it were stolen. "Devastating," says Cook. "But then the cops called three or four days later. They had arrested somebody who crashed his Bird scooter into an old man and he had my hard drive in his backpack." All of their clothes, though, were gone.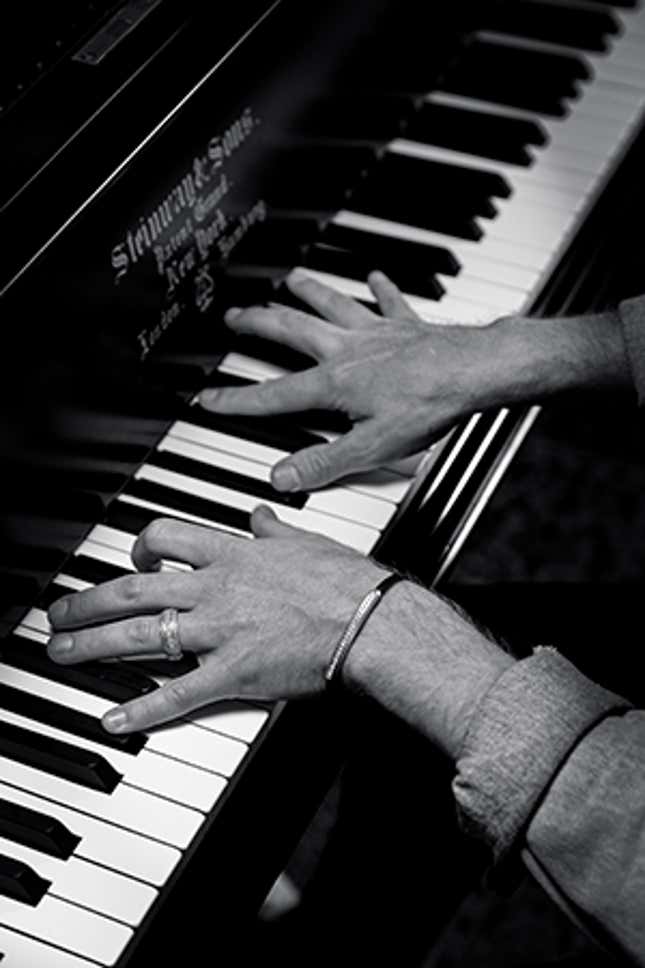 Proudly indie, VHS Collection has steadily built an audience on their own, self-releasing songs on streaming sites and via social media. They have no record label, R&D, or marketing team, just a manager who handles their performance bookings. "We're constantly trying figure out, okay, how do we do this without a label? It ends up being more work on our end, but at the same time we own all of our music," says Cook. Bohannon adds, "We do whatever we want."
Part of the game, they know, is to look good. For the new album, the band worked with graphic designer Richard Robinson who also created the typography-heavy artwork for their 2016 EP Stereo Hype, combining the style of '80s movie studio logos and tech industry identity campaigns.
Fashion-wise, the band members serve up, onstage and off, an unfussy authenticity—real-guy realness. Admirers of other low-key cool rock groups like The 1975, The Strokes, and National, they'll often throw on a pair of black jeans, a plain t-shirt, an understated necklace, a jacket from Supreme or Rag & Bone, and enviable designer sunglasses.
Due in part to a growing fanbase and exposure, the band is making personal style a bigger priority these days. The band is "constantly defining" themselves, according to Bohannon—and have come a long way since wearing matching black jumpsuits at their first live show.
"As someone who is obsessed with music, I feel like the connection to your style always creeps in somehow," says Cook. "I look at other artists and spend a lot of time working at the visual components of our band. I definitely think the way we come across visually is important."
"Ironically, we were really trying to do better on the fashion front on this tour, and then we got all our clothes stolen in San Francisco," says Vanderlip, ruefully. Nevermind. The new album's coming out, the look's coming together, and the band already has that most attractive asset of all: confidence. The goal? New York's other cathedral, Madison Square Garden.
"MSG. Seriously, we're going to play MSG," Bohannon says. "It's just the amount of time it takes."
Conor Cook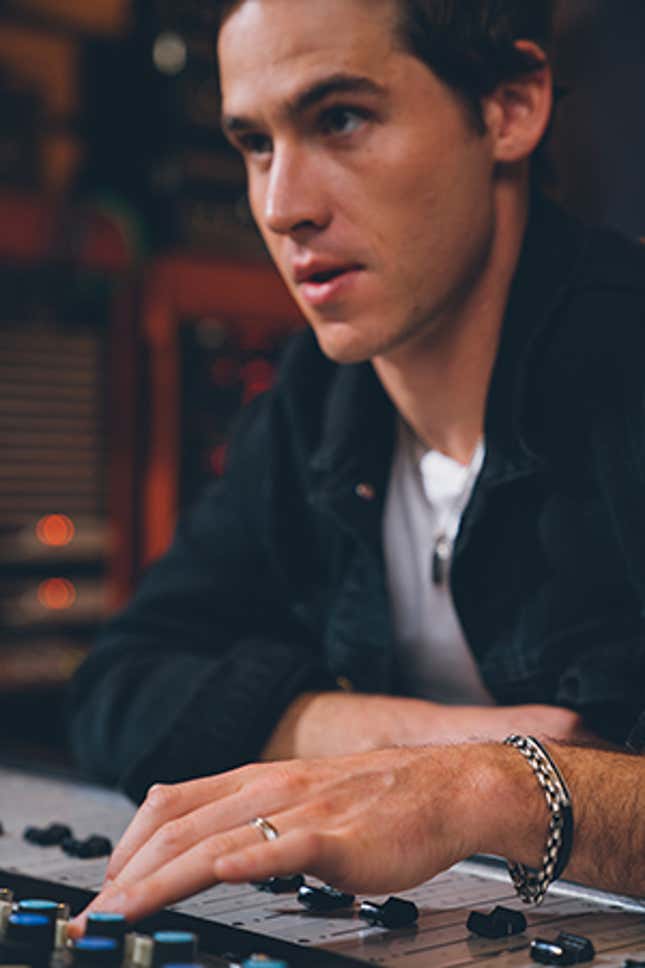 VHS Collection guitarist Conor Cook more or less takes charge of the band's visual presentation. "When we started out we were just jamming, putting music on the internet, and probably looking unprofessional," says Cook, who studied business at Columbia University and prefers a laid-back combination of jeans and t-shirts when he's offstage. "Then it evolved to a point where we wanted to have more of a presence. There's been a lot of time and effort put into that, honestly. We want to create a visual world that people will be drawn into—a world that's authentic and a little bit mysterious."
Musical idols: "I have a picture of The Band in my living room. I'm also a huge fan of Phoenix."
Best concert ever: "Radiohead at Austin City Limits last year. They played after us and the sound blew out. But it was pretty badass."
Favorite '80s band: "Talking Heads."
Artistic influences: "Broadway theater—I was an English major."
Men of style: "Keith Richards and Gary Clark Jr."
Best photographer: "Peter Beard."
Favorite article of clothing: "The blue Supreme jacket that I just bought."
Accessory of choice: "I like to throw on a necklace."
First piece of jewelry: "My grandfather's dog tags from World War II."
Favorite thing to do offstage: "Surfing."
Latest sneaker purchase: "Reebok classic high-tops."
Favorite fashion brand: "Saturdays NYC."
Cool NYC hangout: "Skinny Dennis in Williamsburg."
James Bohannon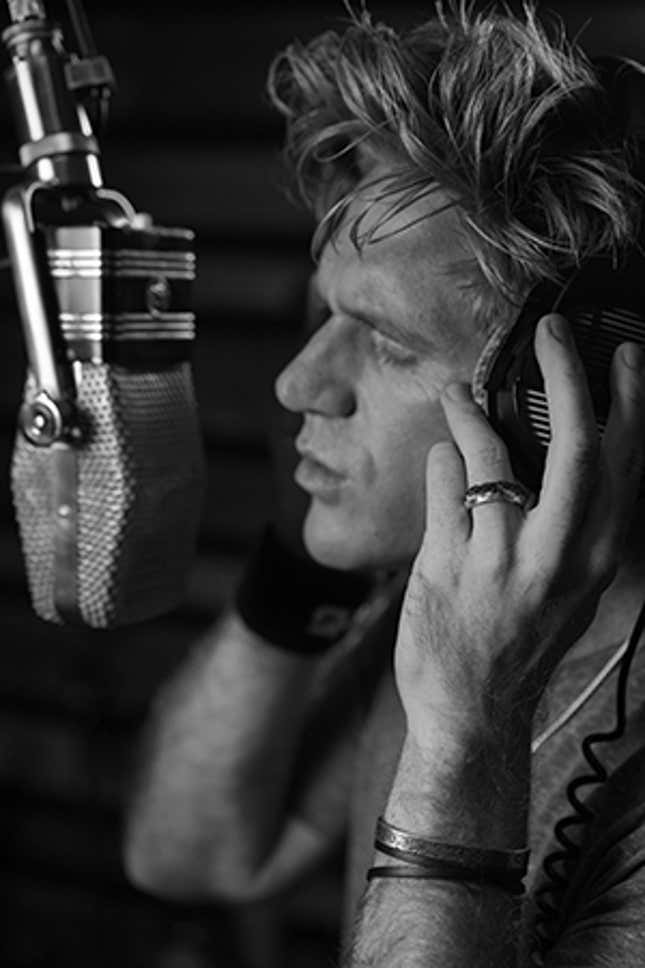 VHS Collection lead singer James Bohannon wrote his first song, "Legend," when he was a sixth-grader growing up in Manhattan. "It's about an older drunk guy at a bar," he says. "Someone strikes up a conversation with him. The older guy's like, 'I used to be the man around here. I used to be a legend.' I guess it's an intense theme for a young kid," says Bohannon, who likes to mix elements of East Coast prep, such as a Brooks Brothers blazer, with tight-fitting black jeans. "When you're into rock and roll, you can wear black jeans every day."
First piece of jewelry: "A monogrammed signet ring my dad gave me when I graduated from high school."
Favorite '80s band: "New Order."
Men of style: "Daniel Craig, Sean Connery, Tom Ford—I like the James Bond look."
Favorite article of clothing: "A fitted v-neck cashmere sweater. It's warm. It's cool. It looks hip."
Cool NYC hangout: "Omar's Private Dining Club in Manhattan."
Artistic influences: "Wes Anderson and Paul Thomas Anderson."
Song you wish you had written: "'Bridge Over Troubled Water' by Simon & Garfunkel."
Inspiring Instagram account: "Matchbook Diaries (@matchbookdiaries)—he tells a story by collecting matches from the different places he goes."
Favorite thing to do offstage: "Walk around and explore a great city."
Accessory of choice: "A cool pair of sunglasses, always. From Tom Ford to Ray-Ban Wayfarers to the Carreras I've been wearing recently."
Best concert ever: "Phish in New Jersey."
Nils Vanderlip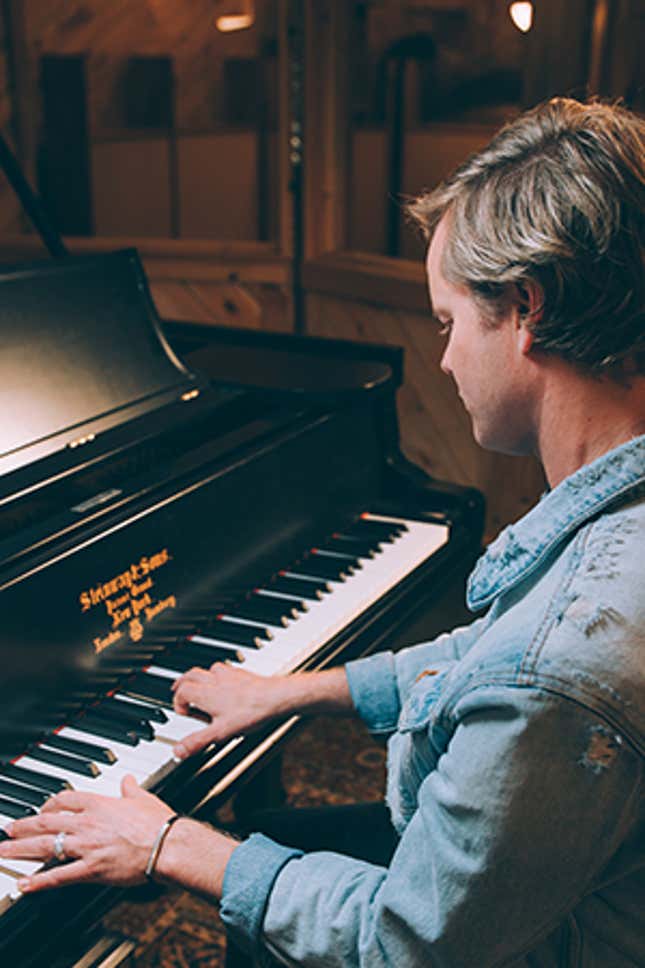 Nils Vanderlip, the musician who gives VHS Collection much of its electronic edge, collects synthesizers as if they were old cars: a Roland Juno 106 from the 1980s, a Sequential Prophet-6, and Moogs (both vintage and modern). He learned to play the drums from his dad, who was in a band in college, but picked up the guitar and piano on his own. In terms of style, Vanderlip describes his taste as intuitive: "I hit the thrift stores, like Tokio 7 in the East Village. If something catches my eye, I'll grab it."
Musical idols: "The Beach Boys, Santana, the Allman Brothers—I went through a really heavy Michael Jackson phase."
Best concert ever: "My dad took me to see Phish at Radio City Musical Hall in 2001."
Favorite article of clothing: "My t-shirt from the same Phish concert."
Man of style: "Prince."
Favorite fashion brand: "Rag & Bone."
Accessory of choice: "My Apple Watch."
First piece of jewelry: "My dad gave me a Rolex Oyster Perpetual that his mother had given him."
Latest sneaker purchase: "Adidas Stan Smith Primeknits."
Favorite thing to do offstage: "Write music."
Cool NYC hangout: "Sophie's in the East Village."
Song you wish you had written: "'Hallelujah'" by Leonard Cohen.
Artistic influence: "Jean-Michel Basquiat."
Inspiring Instagram account: "Consequence of Sound (@consequence) for music news."
Discover contemporary takes on classic men's jewelry at David Yurman.