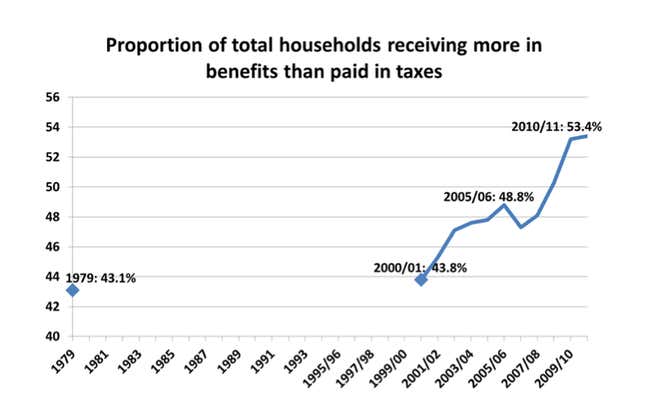 Britain is at risk—if it's not already there—of becoming a welfare state. New data from the Centre for Policy Studies (CPS) show an astonishing increase in government care of its citizens, in areas from education to health, over the past 30 years. Over the past decade the situation has worsened with middle-income people going from significant net contributors to significant net recipients. Statistics show that 53.4% of total households in 2010/11 received more in benefits than they paid in taxes, compared to 43.1% in 1979—adding 3 million households to the red category.
While government is carrying a larger burden, so are top earners.

Part of the change, says the report, has to do with retired people increasingly falling into the middle three earnings categories, though the trend still stood when looking only at them. 39.6% of retired households received more in benefits in 2010/11 than they paid in taxes, compared to 31.7% in 1979, and 29% in 2000/01. Of course, Britain has been in a double-dip recession and this affects both need and taxes.
The report's author, Ryan Bourne, happens to be at the conservative party conference in Birmingham. He said by text:
The key is this: since 2010 Labour's deficit spending increased cash benefits and services much faster than taxes. Unsustainable. Any changes to policy now should be put in that context—we were borrowing money from the future to increase state largesse today.
The numbers are based on publicly-available date from Office for National Statistics. It is worth noting that while the UK think tank identifies itself as non-political, it was co-founded by Margaret Thatcher with a mission "to convert the Tory party to economic liberalism." Asked if the numbers were politically-motivated, Bourne replied: "Well, they are facts."