At 10 a.m. US eastern time, to mark the 40th anniversary of the Yom Kippur War, the Israel Defense Forces' Twitter account was reminiscing:
Nervy oil traders reportedly saw this tweet and started buying crude oil futures, sending prices of the soonest-available oil futures up more than $2 a barrel. Apparently, a hurried read (or perhaps an trading algorithm unfamiliar with history) convinced traders that Israel had attacked Syria today and that the Middle East was heading toward an oil price-spiking conflagration:
But just as it's not necessarily wise to make big decisions on one tweet, it's not smart to attribute market movements to them, either. If you look at a chart of continuing oil futures contracts, the IDF mystery spike seems to have subsided nearly as quickly as it came. And the price was already crawling up well beforehand: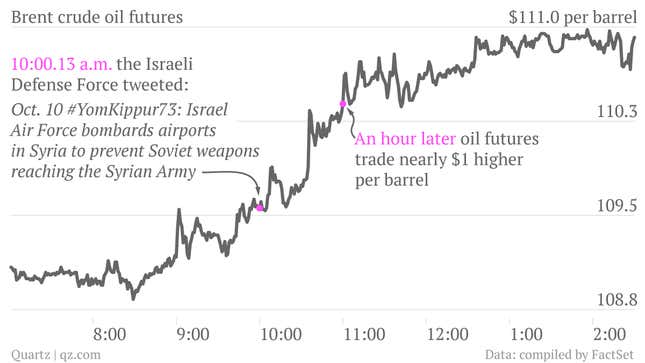 What may have really caused oil futures to jump was news that Republicans in Washington proposed raising the US debt ceiling for five weeks, to give the two parties time to work out disagreements on the budget without an imminent debt default hanging over their heads. News of this leaked as early as 10:10 a.m., and an 11 a.m. press conference with Republican legislators confirmed it. The more we learn about the deal's conditions—including an end to the policy tools that the US Treasury is using to stave off default today—the less likely it seems that it will be the vehicle for a compromise, but at least it's movement.
And there's are other good reasons why oil futures might be going higher today. Libya's prime minister was briefly kidnapped this morning by his own guards, underlining the instability in a nation that produces 371,000 barrels of oil each day. Perhaps most importantly, OPEC announced the lowest level of crude oil production in two years, with the smaller supply—even if it exceeds global demand—meaning higher prices.