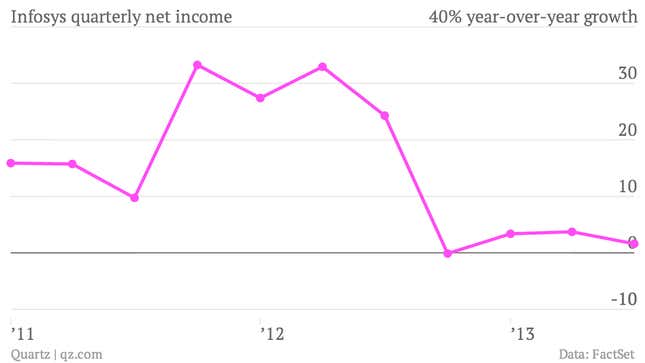 The numbers: Bangalore-based Infosys posted a scanty 1.2% increase in net profit for the three months to Sept. 30, falling short of analysts' already-lowered estimates. The top line was a happier story: Revenue surged nearly 32%, to 129.65 billion rupees ($2.12 billion), due mostly to the devaluation of the rupee. The company expects full-year revenue growth of 9-10%, versus 6-10% previously.
The takeaway: Today's report was the first since co-founder Narayana Murthy came out of retirement to become executive chairman, promising to cut costs and streamline operations. Analysts said that the group's improved guidance was a sign of a sure hand on the tiller. "Infosys is back to its days of under-promising and over-delivering," Emkay Global Financial Services analyst Manik Taneja told Reuters. Shares of the company were up about 5% in midday Mumbai trading.
What's interesting: The earnings miss was largely due to a 2.19 billion rupee provision for "visa related matters," stemming from a US investigation into whether Infosys broke immigration rules by bringing in full-time workers from India under short-term "business visitor" visas. The H-1B visas that companies like Infosys rely on have become a contentious issue in the US immigration debate. With no sign that Washington will be able to tackle immigration any time soon, Infosys and other IT outsourcing companies have recently been building up their operations in Mexico instead.