Gerda Taro's images were searing, disquieting, and groundbreaking, and they helped spawn an entire field—war photography.
Today (Aug. 1), to mark the 108th anniversary of her birth, she has been honored with a Google Doodle.
On July 25, 1937, at just 26, she became the first female photojournalist to die in battle. After ignoring warnings to stay away from the frontline at the height of the Spanish Civil War—during which she took her most-celebrated photos—an out-of-control republican army tank plowed into the car she had hitched a ride on.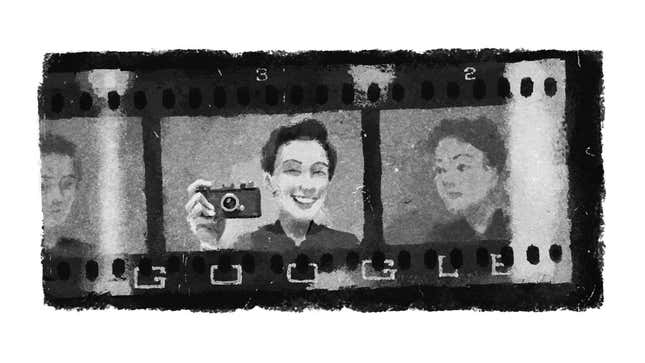 Taro was already famous. She had worked closely with Robert Capa, who went on to co-found the venerable photo agency Magnum. Both published their photos in Ce Soir, a French daily newspaper controlled by the country's communist party, and Taro had become known as an anti-fascist figure—and as "the little red fox," thanks to her red hair and tiny stature.
A grand funeral was organized by the communist party in Paris, as a gesture of solidarity with the Spanish people, and was attended by more than 10,000. The renowned Swiss sculptor Alberto Giacometti was commissioned to create a monument for her grave.
It nonetheless took 70 years for her to be recognized as the pioneering mold-breaker that she was. In the pantheon of war photography, Capa, who considered Taro to be the love of his life, had all but eclipsed her until the discovery of a Mexican suitcase in 2007. It contained thousands of negatives of photos taken by the pair—and it became clear that hundreds of images that had been attributed to Capa were actually taken by Taro.
Born and raised in Germany, she left the country when she was 23 after being arrested for distributing anti-Nazi propaganda. There, she met Endre Friedmann, the Hungarian Jew who would later become known as Capa. In 1936, she traveled to Barcelona with Capa and another photographer to cover the civil war. Her photos of the Valencia bombing are still extolled today.
Her courage in the face of conflict—and her determination to record the realities of war—cost her life. That yearning to be close to the action is also the foundation of her legacy.