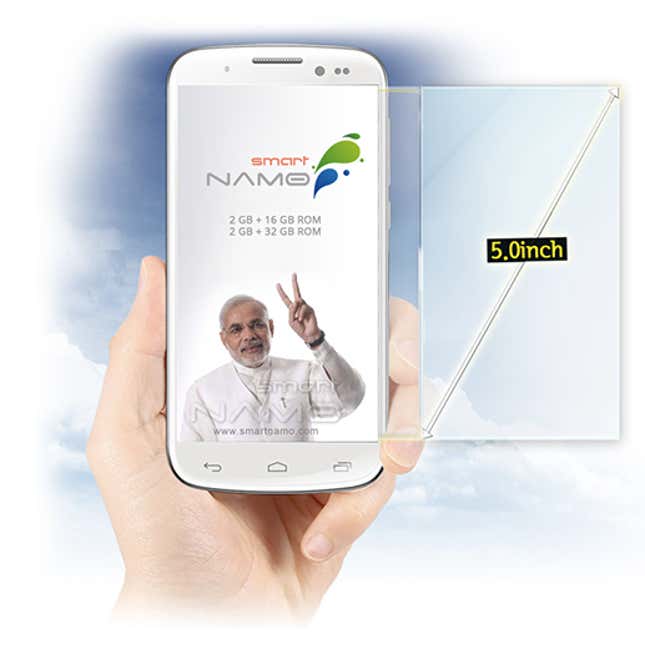 Would you buy a phone just because it has a politician's face on it? Or does that even matter, as long as word gets out about him before an election?
When we first heard of a phone branded with the image of the top official of India's Gujarat province, Narendra Modi, we thought it was a hoax, but the Wall Street Journal apparently obtained one of these Chinese-made, Android-running generic smartphones that honor of the tech-savvy 63-year-old.
Modi is a controversial figure for his Hindu nationalist politics, and his alleged complicity in the deaths of more than 1,000 people during anti-Muslim riots in 2002. His combination of nationalism and business-friendliness have earned him comparisons to Bo Xilai, the disgraced Chinese politician, and Modi has publicly embraced China's state-driven capitalism model of economic development as the way forward for India. He will become prime minister if India's opposition party, the BJP, wins parliamentary elections next year.
Gujarati businesses have been profiting from Modi's popularity, with everything from clothing and cups to tattoos and music being sold under his image, sometimes to fundraise for his party but other times for their own private gain. In the case of the so-called Smart NaMo phone, the idea is drawn from Chinese products that carry the image of party leaders there.
But that raises questions for the Shenzhen-based company behind the phone. It hasn't revealed its backers or distributors, and it's not clear if Modi has approved the use of his name or will profit from the enterprise. The company's CEO told the Indian Express that the firm is in talk with the Gujarat government to set up a manufacturing facility in the province.
That, of course, would put Modi's government in the position of approving—and possibly providing tax breaks and other concessions to—a firm whose main product is designed to promote Modi himself. That wouldn't be an economy inspired by the China system so much as crony capitalism.