How deeply convinced investors are of the strength of China's electric vehicle market?  They've put hundreds of millions of dollars into EV startups that have yet to mass produce their vehicles.
The latest example is Xiaopeng Motors, an Alibaba-backed EV startup that completed a four billion yuan ($580 million) funding round last week. The latest investment has given the 4-year-old EV carmaker a market valuation of more than 25 billion yuan ($3.6 billion). But the company hasn't yet delivered a single vehicle to its customers, who have pre-ordered more than 6,000 of its G3 electric sports utility vehicle since pre-sales began earlier this year. Xiaopeng, also known as Xpeng, said it expects to deliver at least a thousand (link in Chinese, paywall) of the SUVs by the end of this year.
Xpeng is one of several high-profile EV startups to spring up in recent years thanks to China's support of the new energy vehicles market, which includes pure battery vehicles and plug-in hybrids. The support, in the form of subsidies and other incentives, is part of the country's effort to spur local innovation through its Made-in-China 2025 (paywall) plan, and to fight air pollution. Along with investments from tech giants like Alibaba and Tencent, companies such as Xpeng have taken their prototypes to world-class platforms like the Las Vegas Consumer Electronics Show. At the conference, Xpeng displayed the G3, which features a 360-degree camera on its roof that can take photos and videos, and a pollution monitor.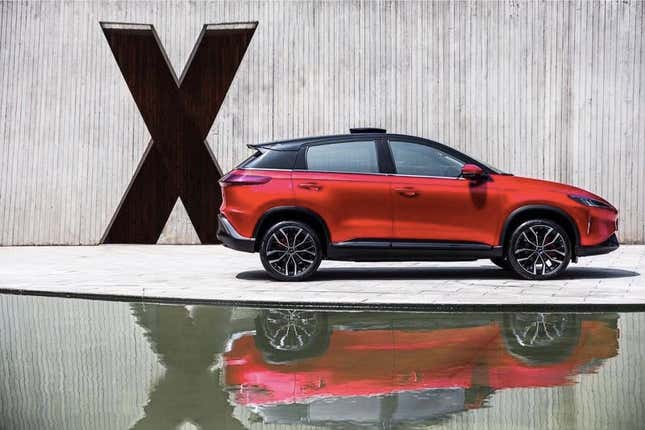 But producing the cars at scale seems to be harder than raking in investor millions, and some startups have been struggling to ramp up production after promises to deliver cars this year or next (link in Chinese).
NIO, a Shanghai-based EV startup which filed for an IPO in the US earlier this year, had postponed delivery of its pure battery EV series ES8 from April to late May, when it delivered 10 (link in Chinese) of the vehicles. Backed by search engine giant Baidu and social media behemoth Tencent, NIO has a private valuation of more than $1 billion.
NIO has delivered 1,000 vehicles as of July, and its factory is making at least 80 cars (link in Chinese) a day to deliver 10,000 orders this year. NIO's founder Li Bin is confident enough of his production schedule that he invited Xpeng's founder He Xiaopeng to bet against him, (link in Chinese) after the latter said on WeChat that no Chinese EV startup is likely to achieve such a production volume this year. (The stakes aren't high—the loser will give the winner a car.)
WM Motor, another EV unicorn based in Shanghai, has also said it will deliver 10,000 units (link in Chinese) starting next month. The company didn't immediately respond to queries.
Time is ticking for the startups as China has been opening its relatively protected auto market this year. Many Chinese EV startups put their SUVs at a price range between 200,000 to 400,000 yuan ($29,220 to $58,440). While that gives them an advantage over a Tesla Model X sold in China, which starts from 897,900 yuan ($131,000), that gap might narrow sooner than they'd like. Tesla is in the process of setting up a factory in China, which could allow its locally made cars to be exempt from import taxes, making them cheaper for Chinese buyers.