Colombian-born DREAMer Catalina Cruz has lived in New York City since she was nine. She is an attorney, with a history of working on tenants' protection, immigration law, and workers' rights.
Cruz has worked for New York's City Council and is running in a Democrat primary for a seat in the New York state assembly from Queens—the first DREAMer to run for office in the state. She is hoping to pull an Alexandria Ocasio-Cortez  and replace incumbent Ari Espinal, who has been backed by the party establishment. Like Ocasio-Cortez, her obstacles are high but not insurmountable.
One, however, is especially daunting. Googling "Catalina Cruz" brings up a lot of pages—and photos—though many are not hers: They belong to Catalina Cruz the porn star.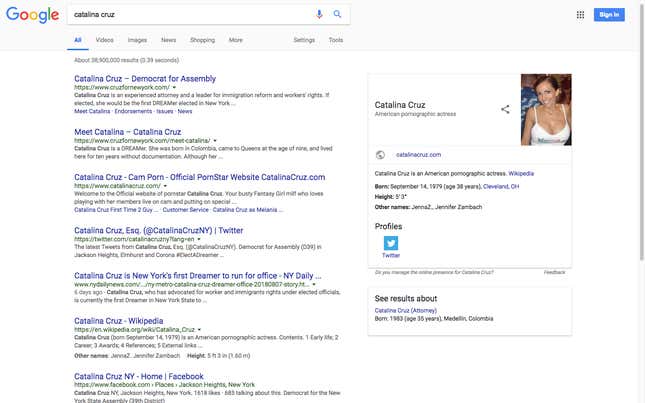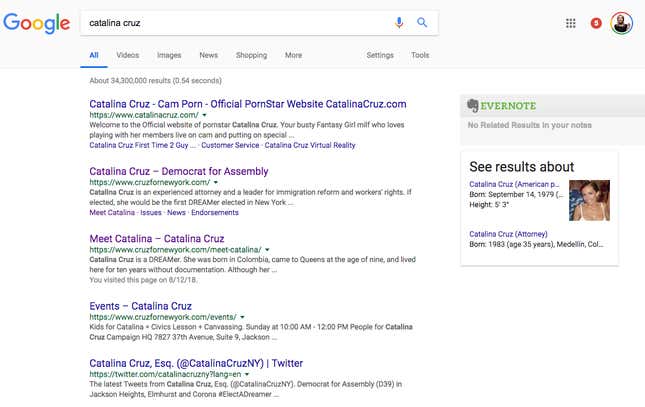 The problem highlights the difficulties newcomers on the political scene can encounter as they seek office—as well as the challenges posed by the collectively composed, decentralized, and wide-reaching Wikipedia.
The disambiguation effort
One way to clear up the confusion, according to the veteran Wikipedia editor who works as "BrillLyle" (real name: Erika Herzog, she tells Quartz), was to create a page for Cruz the candidate, and a "disambiguation" page on Wikipedia, a type of page listing all the entries with different meanings under the same title, for instance "Queen."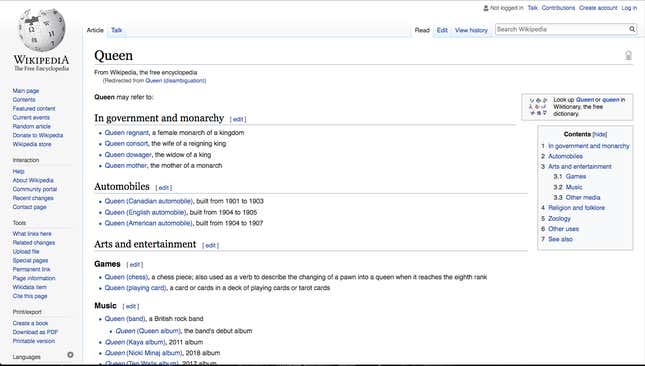 Herzog moved on with the page writing, crafting an entry with numerous citations (at least 30 in the original draft, currently about 50) in order to meet Wikipedia's "NPOL" requirement (notability for politician, or a measure of their relevance beyond the very fact of running for office).
The page, with a breakdown of Cruz's life, career, and political endeavors, is available here as a draft—though it is likely not going to be published for a while—if ever.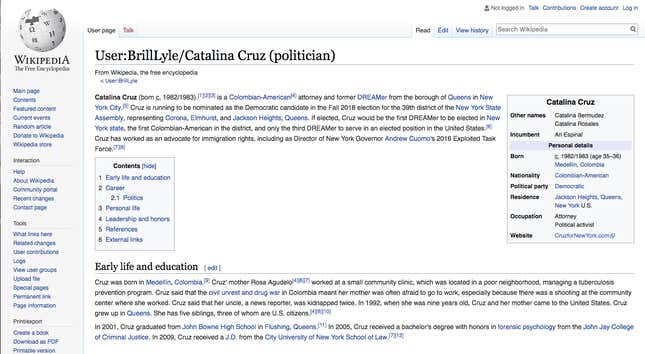 Why "notability" matters
Only a day after beginning the entry on March 17, Herzog asked a group of Wikipedia editors how to create a disambiguation page, explaining the Catalina Cruz issue. This raised a flag for at least one of the other editors in the channel, who went on the page, heavily edited it, and then flagged it for removal. Cruz, that editor thought, didn't meet the notability requirement.
Wikipedia's policy states that a subject is considered notable if they have "received significant coverage in reliable sources that are independent of the subject." Specific guidance developed by volunteer editors regarding political candidates says that "just being an elected local official, or an unelected candidate for political office, does not guarantee notability, although such people can still be notable if they meet the primary notability criterion"—that is, the coverage.
This is where Cruz's page edits and deletion generated contention, and then an outright internal fight—whose details are available and recorded for posterity in the full glory of Wikipedia's transparency.
Herzog—whose opinion, the Wikipedia record shows, was supported by the members of the Colombia Wikimedia chapter—contended that Cruz passed the test of being in the public eye. (Wikimedia is the foundation that runs Wikipedia). Having a page on her would at least help with the porn-star mixup and document the career of a women of color who was once an undocumented immigrant.
Other editors thought Cruz's career wasn't enough for her to deserve her own page—despite the abundance of citations. Herzog accused the editor who initially rejected her page of being biased against Spanish-language publications (where most of the links were coming from) and to have made his choice as a retaliation against her over  earlier confrontations. In the recorded comments, the page's other editors pushed back on the accusation, noting all of the times they themselves had used Spanish-language sources, and insisting that the holdup was only over Cruz's notability.
"I made a massive judgement mistake," Herzog told Quartz. "I didn't know it's a sticky point to have pages about political candidates," she said, explaining that had she known, she may not have taken it to the attention of the editorial community for fear that her antagonistic relations with the community might jeopardize Cruz's page.
Behind a Wikipedia editors' fight
Herzog's heartfelt protests didn't save Cruz's page, which was deleted from the main site on March 18.
It probably didn't help that it was she who put up the page: She had a history of controversies with the Wikipedia community, on and offline, and had previously been banned from the NYC Wikimedia chapter's board. She says this had to do with her being too upfront with her criticism of the local leadership, and Wikipedia community's gender bias (according to Wikipedia, only 9% of Wikipedians are women). The board, on the other hand, labeled her behavior "harassment of individuals."
Herzog kept working on her Cruz page—one of tens of thousands she touched—until July 31, adding more citations and hoping to make it strong enough to publish. In early August, she was blocked for breaking a community rule ("outing" another editor—that is, she used the editor's real name, instead of the Wikipedia username, on the site, violating their anonymity). Shortly after, another disciplinary measure hit her, this time definitive: She was banned by the Wikimedia Foundation, which forbids her from working on any Wikipedia sites globally.
This is a very strong, very rare disciplinary measure (only about 30 people have been hit by  it so far), which typically follows long investigations and often formal warnings. Wikimedia is also clear that bans don't have any relation to content creation—they don't have anything to do with the quality of the user's work—and are based on behavior within the community. The stated aim is to protect the physical and psychological safety of members.
The regrets of a "difficult, well-meaning idiot"
Herzog doesn't deny being a problematic within the Wikipedia community. She refers to herself and her presence as "toxic" in that context, describing herself as a "difficult, well-meaning idiot."
She is convinced her personal behavior and relationship with the community has cost Cruz her page, and the much-needed explanation that disambiguation would provide. "It just takes one obstructive editor to stop a page," she says, and she believes her work on Cruz may have been targeted by overly critical editors (whom she refers to as "stalkers").
"I have been cleaning up many entries on political candidates," Herzog says, noting that many of them (for instance Danny O'Connor, an Ohio candidate for the US House, or Mikie Sherrill, who is running for Congress in New Jersey.) weren't about candidates more notable than Cruz.
"I feel terrible that unless [Cruz] wins the nomination she won't get a page," says Herzog, "and I can't help her anymore."
A singular solution for the two Catalina Cruzes
Candidate Cruz has seen the effect of the Wikipedia problem. "When [potential voters] google me, the first thing that comes up is a porn star, so that's damaging," she told Quartz.
She doesn't see the issue as hers alone. For an entity as important as Wikipedia to have a somewhat discretional policy in terms of what candidate profiles it allows can lead to great damage. "It's about deciding who deserves to get a page and who doesn't," she said, contending "it amounts to voter suppression" by hiding information from voters.
She and her team haven't reached out to the Wikimedia Foundation directly, though other than refer her concerns, there isn't much they would be able to do. Wikimedia "does not set editorial policy on Wikipedia," Samantha Lien, Wikimedia Communications Manager, told Quartz. "That is, we don't write, edit, or determine what content is included on Wikipedia or how that content is maintained."
All the editorial decisions are made by volunteer editors (200,000 who are active monthly) in accordance with policies that were "created collaboratively by volunteers over the years and are overseen and enforced by volunteer editors and administrators." Wikimedia doesn't see this changing anytime soon.
However, all the decisions are susceptible to revision, which is Herzog's last hope: That someone may find the very detailed page she has written about Cruz, edit and expand it, and finally publish it—if not before the Sept.13 primary vote, then after she wins the nomination, as Herzog is convinced she will do.
Indeed, the editorial notes in the page have now flagged it to be published in case of a victory. Given the way Wikipedia works, an experienced editor would have no problem finding Herzog's draft and integrate it with whatever new information had become available. And it's possible that if someone else started a new page from scratch it would be at some point integrated with information from the existing draft.
The Catalina Cruz who was famous first doesn't see the candidate's emergence as any obstacle for her career.
"I know I have [had] a page already on Wikipedia for many years. My name is trademarked, although it is in a much different category," the adult-film actress told Quartz. "I do support women, especially ones that are trying to make impacts and change."