Young adults are extremely stressed-out these days—and colleges across America are scrambling to support them.
In 2013, a group of top-flight colleges including Stanford, Harvard, Princeton and the University of Pennsylvania formed the Resilience Project to pool ideas and resources around building students' coping skills, including Baylor's workshop on cultivating grit and a Harvard group that encourages students to reflect on their beliefs about success and failure.  Yale last year launched"Psychology and the Good Life," a class about how to find happiness, while Bates is focused on helping students discover "purposeful work." The Princeton Perspective, meanwhile, is a project committed to normalizing failure among certain not-used-to-failure types.
Florida State University is taking a different approach with a new program that aims to tackle not just how students can weather stress, but also how they can deal with trauma. This fall, its 6,000 incoming freshman will be required to take part in the "Student Resilience Project," an online trauma-resilience initiative developed by the Institute for Family Violence Studies at FSU's College of Social Work.
Every freshman will learn in a four-to-five minute video about adverse childhood experiences, or ACEs, such as emotional, physical or sexual abuse, a mother being treated violently, or household mental illness. The video explains that people attempting to cope with the suffering that results from those experiences can wind up engaging in harmful behaviors, including drug and alcohol use and dysfunctional relationships. Then, through a series of online videos in the style of TED talks, faculty and mental-health providers will offer strategies and testimonials on how students can deal with issues they may encounter in college, from breakups, academic stress, and the pain of losing a parent or grandparent.
Karen Oehme, director of the Institute for Family Violence Studies in the College of Social Work at FSU, says the program is aimed both at students who have faced trauma and those who have not. "Even if you haven't experienced ACEs, or had only one, students come here and have all of this stress, and these issues they didn't expect," she says. "We want to help them too. It's stress management and stress reduction."
FSU's program is unique from other resilience programs in a few ways. It addresses trauma head-on, and acknowledges that many students will have faced it before they get to school—in the form of sexual abuse, community violence, witnessing domestic violence, or racism. Indeed, many survivors of the Marjory Stoneman Douglas High School shooting in Parkland will join FSU this fall.
It's informed by the idea that unmanaged responses to stress can interfere with students' ability to succeed in college, along with longer-term negative consequences. It is online—which raises some concerns about how effective it can be at helping students deal with trauma—and it is meant to be preventative and universal. Finally, the motivation for the program goes beyond ensuring that kids graduate with decent grades. "We are not just dealing with academic resilience," Oehme says. "We want to look at the whole person."
How FSU's program got started
Last fall, Jim Clark, dean of FSU's school of social work, went to the provost of the university with an idea: a program to build student resilience that would educate young adults about trauma and its effects.
Three things contributed to his making the request. First, like other universities, FSU has seen a massive uptick in demand for mental-health services; according to one study from Belgium, one in three college students report mental-health issues each year.
Clark was also motivated by the memory of Andrew Coffey, an FSU fraternity student who died last year in a Greek hazing ritual. The president of the university committed to raising awareness about hazing, substance abuse, and mental health issues.
Finally, Clark, who has been a psychotherapist for many years, noticed that incoming students seemed much more fragile and less able to respond to the multiple emotional and academic demands of university than previous generations. "Theres's  less sturdiness among students who are facing a lot of pressures coming into the university," he said. Clark is far from the only person to observe this phenomenon: Peter Salovey, president of Yale and an early pioneer in research on emotional intelligence, told Quartz that while students today are more sophisticated and worldly than previous generations, they are also much less resilient.
When the provost said yes, Clark and Oehme set out to find a preexisting program that worked. They came up short, since most resilience programs have not been systematically evaluated. "We don't have peer-reviewed literature saying this is what works in the college system," he said.  So they set out to design a program based on the science of resilience and informed by trauma awareness, which the university plans to evaluate.
Clark wanted to go beyond short-term triage of students' problems and get closer to the root of some of the issues they face. "Most people do not know there is a connection between what happened to them and how they are coping it with it," he said. Trauma-informed service means that instead of sending students the message, "Why are you always messing up like this?," the college asks, "What happened to you?"
"That's the operative question," Clark says. "All the things you and everyone else thinks you are doing wrong might be the solutions you have formed to deal with past trauma." If you become aware of the trauma, its impact, and the availability of other coping mechanisms, you might be able to let go of some of the destructive behaviors.
"Time does not heal, time conceals"
While it may seem grim to kick off freshman year by educating kids about the impact of trauma, research suggests that colleges might be wise to do so. Trauma is far more prevalent than we realize. According to one of the largest studies conducted on adverse childhood experiences, conducted by Kaiser Permanente and the Center for Disease Control, 26% of a large, nationally representative sample of adults reported experiencing one ACE; 22% reported experiencing three or more. Since ACEs are strong predictors of negative outcomes such as disrupted neural development, depression, disease, and early death, trying to address them seems a sensible approach for an institution aiming to prepare students for life. "Time does not heal; time conceals," writes Vincent Felitti, a professor of medicine at the University of California San Diego, in the journal Academic Pediatrics.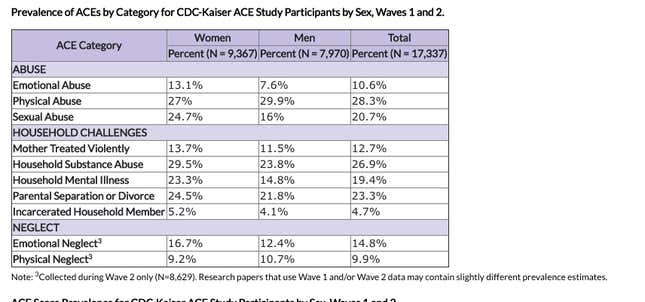 Even for students who do not arrive with a history of trauma, college offers ample opportunities for stress. There's the academic pressure, the high cost of tuition, and the experience of living apart from your family for the first time, not to mention many tricky social situations. The video and audio presentations talk about the "normality" and advantages of taking risks, explaining that by failing, we actually build the muscles of resilience.
It's far from a sure bet. If students don't use the program, or find it annoying, they will have plenty of opportunities to say so. The hope, Clark says, is that those who don't need intensive services gain some additional education and awareness, and those who discover through the program that they need more individualized help—or who know that already—will be able to find it on campus. And the simple introduction of the program may help reduce the stigma that often surrounds mental-health and substance abuse problems, while reminding students that it's entirely normal to struggle sometimes. Already, FSU's graduate and post-graduate departments have already asked to get programs tailored for their students.
"America has bought into the gospel of success at all costs," says Clark. Young people often grow up feeling like there's not a lot of room for failure and setbacks. But resilience is built through messing up and moving on. For students who don't know how to do that already, college is a good place to start.