When a former presidential hopeful stepped down from his post after being accused of sexually assaulting his former secretary in March, it energized South Korea's #MeToo movement, and many hoped a powerful figure would face justice for his actions. That wasn't to be.
A court in Seoul ruled yesterday (Aug. 14) that Ahn Hee-jung, the former governor of South Chungcheong province and a close ally of president Moon Jae-in, was not guilty of forced sexual intercourse, or of obtaining sexual intercourse through abuse of authority, the key charges he faced. The court said there was insufficient evidence to show that he pressured his female aide into having sex.
Ahn stepped down from his governor post in March after his former secretary, Kim Ji-eun, claimed in a TV interview that he had raped her four times. Ahn, a self-professed feminist (link in Korean), was then indicted on charges of abusing his supervisory power over Kim. Ahn maintained that the sex was consensual throughout the investigation.

The allegations against Ahn fueled South Korea's fledgling #MeToo movement, which kicked off in January after a public prosecutor accused a former senior justice ministry official of sexual assault. Ahn, however, was a much bigger scalp that the #MeToo movement hoped to claim.

"I am sorry and I am so ashamed," Ahn said after the ruling on the courthouse steps. "I will make efforts to be reborn again." Lawyers for Kim said they would appeal.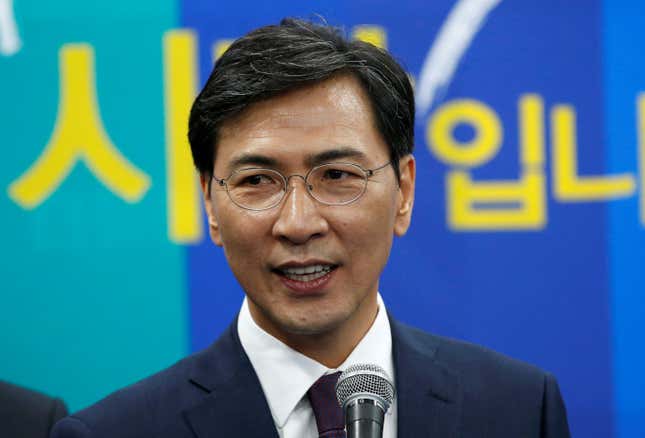 "Not acting like a victim"
In its judgment, the court questioned the authenticity of Kim's statements against Ahn because Kim appeared to go about as normal (link in Korean) in her everyday life after the alleged rapes. Local media reported that Kim was shocked when the judges allegedly interrogated her for "not acting like a victim" (link in Korean).
"The victim attempted to find Ahn's favorite tofu restaurant (link in Korean) and went to a wine bar with Ahn on the day that she got raped," the court said in its ruling, according to news wire News1. "While chatting with an acquaintance, Kim maintained that she respects and supports Ahn which is questionable because she didn't need to put on such a face when talking to her acquaintance."
Lee Eun-eui, a former Samsung-employee-turned-lawyer who won a landmark sexual harassment lawsuit (link in Korean) against Samsung, told Quartz that the ruling was "regrettable." She said the court was on the perpetrator's side rather than the victim's when it came to interpreting what constitutes consensus between a subordinate and a supervisor.
Shin ji-ye, a former Seoul mayoral candidate who campaigned on a feminist platform earlier this year, told Quartz that she had not expected Ahn to walk free. "The court does not recognize unwanted sexual contact between hierarchical unequals," Shin tweeted after the ruling.
Shortly after the ruling, more than 300 protesters gathered in front of Seoul's Western District Court according to the organizer, feminist group Femi Flame Action. The demonstrators—mostly female—crouched together in front of the court's main gate holding signs such as "the court protecting the perpetrator is also a rapist" and "perpetrator to prison, victim back to ordinary life." Some wore masks and sunglasses to protect themselves from being recognized and facing online retaliation later—a common practice (link in Korean) at women's protests in Korea. Similar protests took place in other cities (link in Korean).
"If Ahn's not guilty, then the court is guilty," hundreds of women chanted together. The protestors also shouted,"Perpetrators can be reborn in prison!"
Power imbalance
The scandal has shaken South Korea, but is also highly divisive in a country that is deeply patriarchal. Some have likened #MeToo to a witch hunt, particularly after two men—an actor and a university professor—took their own lives (link in Korean) after sexual harassment accusations were made against them.
Many in South Korea do not support Ahn's former secretary, or other accusers of sexual assault.
Ahn's wife was among those who publicly criticized Kim, alleging that she had behaved like Ahn's girlfriend, earning herself the nickname "wife-secretary" (link in Korean) among Ahn's supporters. Others accused Kim of intentionally seducing Ahn based on Kim's friendly social media messages (paywall) accompanied by emoticons, to Ahn, pointing in particular to one message that Kim sent to an acquaintance, saying, "nothing seems able to comfort me except the governor."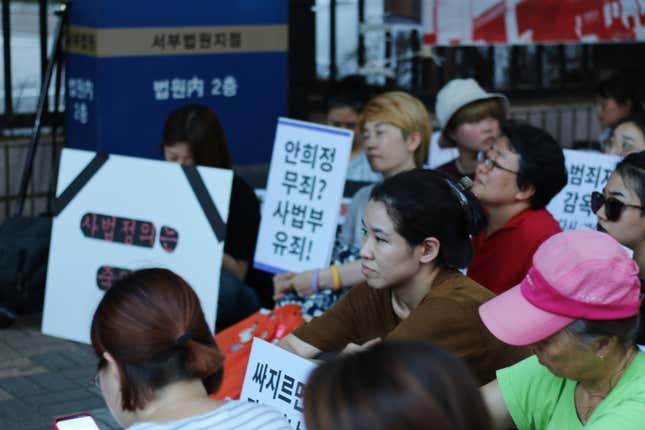 But for many at the protest, these interactions couldn't be judged separate of the power imbalance between Ahn and Kim.
"I think the court's ruling was biased and anachronistic. I think the victim was not in the position to to defy Ahn and that is why I think this ruling is wrong," said Lee Yae-chan, one of the few male protesters at the scene.
But outdated thinking about sexual relations can take long time to change. During the investigation, according to Kim, the judge for the hearings had asked her why she had allowed Ahn to take "take her chastity" (link in Korean)—echoing the legal term once used to discuss rape. South Korea has traditionally emphasized the virtue of chastity in women, and rape laws were at one time called "chastity crimes," emphasizing the supposed loss of virtue, rather than the physical and psychological violation of the crime.
The name in the criminal code was revised in 1995—and protesters on Tuesday expressed the hope, despite the ruling, for a similar update in thinking around sexual relations more broadly.
"Twenty years ago, the name for the rape law was called the 'chastity' law. But the name was changed because many people fought against it. We can fight back and change society!" one female protester shouted.