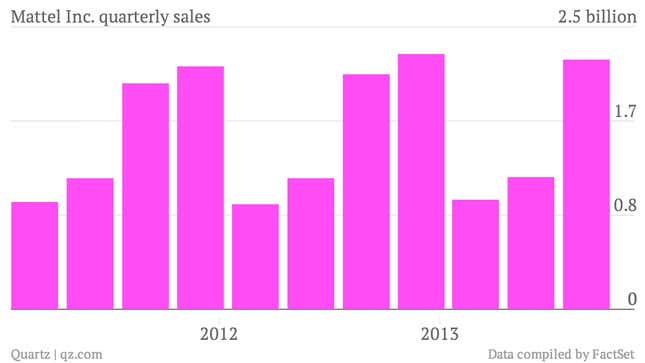 The numbers: Impressive. Mattel reported third quarter earnings of $441.8 million, a 16% jump from the same period last year. Sales came in at $2.21 billion, beating analyst estimates of $2.17 billion. Mattel shares were up sharply in pre-market trading in response to the news.
The takeaway: Mattel's American Girl brand is on fire. The brand, which already accounts for over 40% of the company's growth, posted another monstrous quarter. American Girl sales soared 20% from the same period last year, thanks to strong sales in both the US and abroad. That's after a 14% jump last quarter, and 32% jump in this year's first quarter.
What's interesting: Mattel's massive arsenal of marketable toys has the company primed for a high-selling holiday season. While American Girl brand sales continue to outpace the company's other offerings, Mattel's strong quarter benefitted from sales growth across several of its brands. Barbie sales grew for the first time in over a year; Other Girls Brands, which includes its Monster High line, saw sales grow by 28%; and the company's games business, which includes Scrabble, enjoyed a 7% uptick in sales. Mattel continues to push out the industries' most likable toys; it boasts more than 80 toys listed amongst the holiday season's most desirable by the likes of Amazon, Kmart, Walmart, Toys 'R' Us, Kohl's and Toy Insider. By comparison, the number of listed toys made by Lego, Mattel's closest competitor, doesn't come anywhere close.