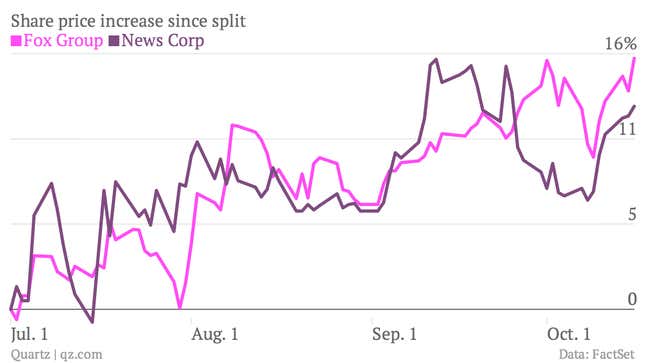 It's now more than three months since Rupert Murdoch divided his media empire in two—separating the print media businesses on which his fortune was founded from his booming entertainment assets. And it hasn't played out as many expected.
Since the split took effect on July 1, shares in the new News Corp (which houses the Wall Street Journal, the Times of London and the New York Post, among other titles) have underperformed Fox Group (which owns the Fox broadcasting stations and film studios)—but not by much. In fact, the stock has held up relatively well in light of large write-downs and management changes in Australia (where new News Corp earns roughly two-thirds of its total profits).
Many viewed the separation of the old News Corp as a way for Murdoch to insulate his media businesses from potential lawsuits relating to its infamous phone-hacking scandal in Britain. For its part, the company has argued the split was designed to unlock value for shareholders (prior to the split, concerns about future growth of its print assets were weighing down the valuation ascribed to the entertainment businesses).
So far, the plan has worked. Since the spinoff took effect on July 1, both companies' share prices have outpaced the returns of the broader S&P 500 index by more than 5 percentage points.