France's shadow over Africa still looms large, decades after it started decolonizing out of the continent. And no, we're not talking about its recent forays back in, with Mali and now Central African Republic. France, one of the largest outbound tourist countries in the world, is the largest source of visitors to Africa, according to a new "Africa Tourism Report" by World Bank.
The report specifically focuses on the tourism potential in Sub-Saharan Africa, and gives numbers on the top source markets for the region, with some interesting results, as the chart on the right shows: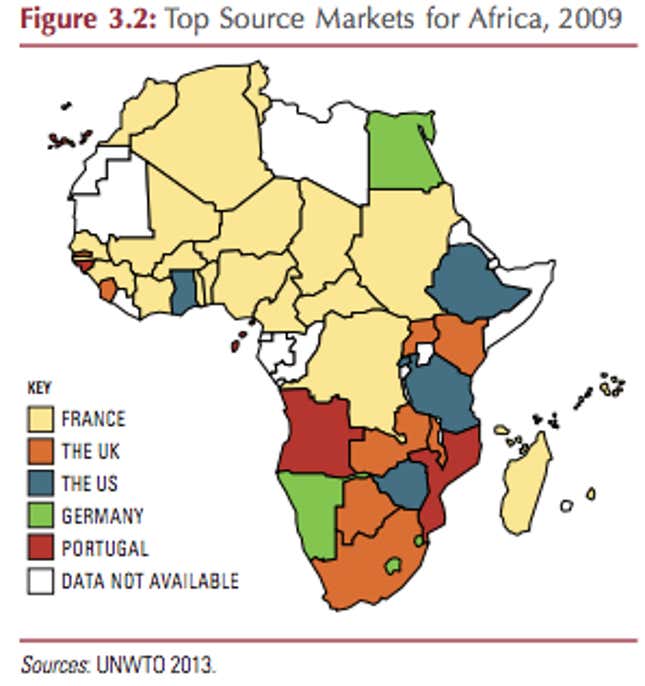 France was the top long-haul source market for Africa in 2009 and was particularly dominant in West Africa.The most popular sub-Saharan destinations for French tourists are Mauritius and Senegal. France is also the top market for Madagascar, Mali, and the Seychelles.
UK has long-standing links to Kenya, South Africa, and The Gambia; it is also the number one source market in Tanzania and Zambia. Emerging UK destinations are Cape Verde, Mozambique, Namibia, Uganda, and Zambia.
US is the top source market for Ethiopia, Ghana, Rwanda, Uganda, and Zimbabwe, with South Africa receiving the most US tourists.
Emerging source markets for the region include Australia, Brazil, China, Italy, Russia, and Spain.
On the long haul air routes into the continent, a similar story plays out, though the rising Gulf airlines are changing that rapidly. Long-haul connections are dominated by a small number of foreign carriers, such as Air France, British Airways, Brussels Airlines, Emirates, KLM, SWISS, and Virgin. Airline outings are strongly connected to former colonial interests and to countries with a common language. British Airways and Virgin dominate routes to Ghana, Kenya, Nigeria, and South Africa. Air France dominates routes to Madagascar, Mali, Mauritania, and Senegal.
The chart below shows the routes into the continent: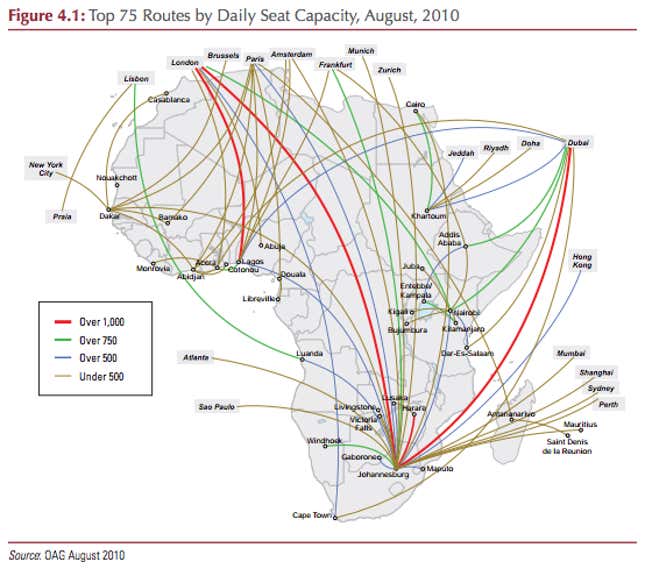 Rafat Ali is CEO and co-Founder of Skift.
This originally appeared at The Skift. More from our sister site:
Wealthy space tourists expect luxury hotels at Virgin Galactic Launchpad
Global Pressure Forces European Union to Limit Emissions-Cutting Scheme
Enterprise Lures New Renters with Harley-Davidson Motorcycles in Vegas