Netflix doesn't do average.
The streaming-video behemoth's original movies are either great or abysmal, a Quartz analysis of Rotten Tomatoes scores reveals. There's virtually nothing in between. Movies branded by Netflix as originals and released in the US in 2018 have Tomatometer scores of 60% or higher, meaning they're considered "Fresh," or worth a watch, by critics on the site, or they have "Rotten" scores of 31% or less.
The Tomatometer measures the share of critic reviews on Rotten Tomatoes that were considered positive. Quartz analyzed the scores of the 25 Netflix-branded originals released in the US in 2018, as of July 31, with at least 10 reviews on the review-aggregation site, as well as those released in US theaters by the 10 top-grossing movie studios, per Box Office Mojo.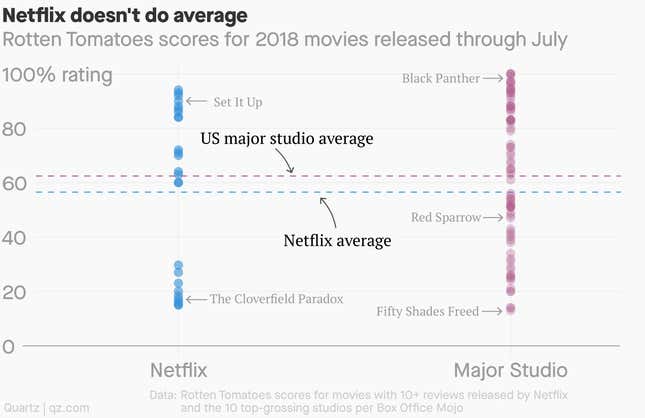 Major-studio releases run the gamut. In 2018, studios like Disney, Universal, and Fox put out movies considered by critics to be truly excellent (Black Panther, 97%), remarkably mediocre (Red Sparrow, 47%), and barely watchable (Fifty Shades Freed, 13%). Of the 79 major-studio movies analyzed by Quartz, 19 have scores between 35%-60% on Rotten Tomatoes.
Netflix, by comparison, has nothing in that middle range on Rotten Tomatoes. Its best-reviewed movies of 2018, so far, are international films like the mother-daughter drama Sunday's Illness (94%), and the dark thriller Calibre (93%). The worst-reviewed are sci-fi thrillers like How It Ends (15%), The Cloverfield Paradox (17%), and Extinction (27%).
The streaming-video giant says its doesn't care what critics say. It makes movies people want to watch, whether those are arthouse flicks for cinephiles or irreverent comedies for casual viewers. That may be why its titles either hit big with critics, or totally bomb. Comedian Adam Sandler's movies are consistently panned by critics, yet Netflix says they're among the most watched on the service. Netflix's 2017 movie Bright, starring Will Smith, also had terrible reviews but audiences loved it.
Seven of the 25 (28%) Netflix movies analyzed by Quartz scored lower than 25% on the Tomatometer, while that was true of just seven of the 79 (8%) movies released by major studios. The average score for 2018 Netflix movies is 58%, a little less than the 63% those from major studios average. Netflix's median score was similar to the major studios, with 64% and 65%, respectively.
Netflix doesn't release all of its movies in theaters—and when it does, the releases are usually limited—so it has more room to experiment. (These days, the only consistently profitable movies in theaters are big-budget event films like Avengers: Infinity War, which gross billions worldwide, or buzzy niche fare like Get Out that can be made cheaply and earn big.)
It's putting out more of the movies other studios are shying away from, including adult dramas like the Martin Freeman-starring Cargo (84%), romances like Set It Up (90%), lowbrow comedies like Sandler's The Week Of (23%), and teen movies like The Kissing Booth (13%). Audiences don't pay to see these types of films in theaters anymore, but that doesn't mean they won't watch from their couches with a subscription.
Netflix is releasing 80 movies in 2018, up from nearly 60 in 2017—and far more than other major US movie studios.
This is just the tip of Netflix's movie ambitions. In a year or so, it plans to start releasing the kind of commercial, event films audiences typically pay to see in theaters. Movies from top-tier directors like Michael Bay and Martin Scorsese could make Netflix films indistinguishable from those in cinemas.