A year ago, when China indicated it would eventually phase out fossil fuel cars, the news boosted investor confidence in domestic electric vehicle makers, who already count on the world's largest market. BYD, the Warren Buffett-backed electric-vehicle maker, saw one of its best performances since it listed in 2008.
That was short-lived. BYD was hit hard when China last year began tightening subsides for electric vehicles, which will be replaced by a system of credits instead. First piloted in 2010 (link in Chinese), the subsidies helped BYD pivot from being a battery maker and phone assembler to China's biggest electric-vehicle manufacturer.

The drawdown in subsidies saw the EV maker log a nearly 20% decline in net profit in 2017. For the first half of 2018, the company announced Wednesday (Aug. 29) that net profit had dropped 72% to $70 million (pdf. p. 18) compared with a year earlier, despite revenue growth.
Starting out as a battery maker for phones in 1995, BYD only rolled out its first EV model in 2008. It appeared to have its ear to the ground—the following year China announced plans to encourage the use of electric vehicles. In a decade China went from a few thousand sales to some 770,000 last year. BYD sold 110,000 of those or about 15% of the total. (China lists these sales as NEVs, or new energy vehicles, a blanket term for fully plug-in and hybrid models, and buses as well as cars.)
BYD received 4 billion yuan ($590 million) in government grants and subsidies from 2013 to 2017, according to its financial statements. The company said Wednesday that it expects to benefit from changes in the subsidy program from this year that direct more support to cars with longer driving ranges.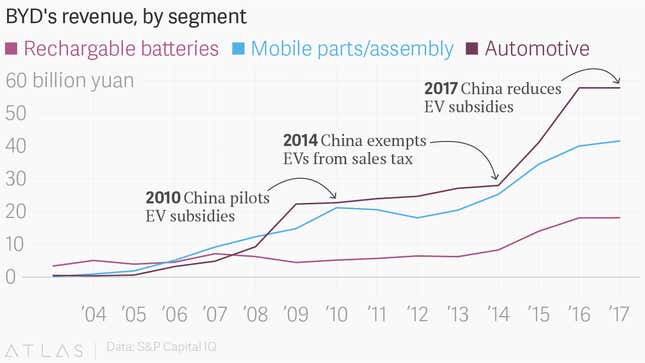 However, China plans to completely phase out subsidies by 2020. That will include bringing an end to a sales tax exemption that offered to buyers since 2014.
Without the subsidies, higher NEV sales could actually mean more losses, said Angus Chan, a Shanghai-based analyst at Bocom International, citing the higher research and development cost of NEVs. BYD is targeting some 170,000 sales this year, and has so far sold 75,800. "It's a matter of if the firm can shift the costs to customers," he said, "But it's looking hard for BYD as many players are entering the EV market."
The electric car market also faces new foreign competition thanks to China's announcement this year that it will ease manufacturing rules for makers of electric cars. Tesla is already in the process of setting up a factory in China that could help reduce the cost of its cars—although in its case those gains might be offset by tariffs from the trade war with the US.
Nor can BYD rely on its fossil-fuel car sales to help. Conventional cars are still a huge market in China, with nearly 29 million (paywall) in sales last year, but sales overall have been slowing. While BYD sells more conventional cars than EVs, last year it only recorded 245,000 in regular passenger car sales (pdf, p. 12) in 2017, a big drop from the year before. For comparison, Shanghai-based state-owned SAIC Motor, the top passenger vehicle car maker, sold more than 2 million units (link in Chinese) in the same period.
What about public transport, a growing part of its business? This was also good money, with local governments able to get subsidies for electric bus purchases that could amount to half the purchase of a 2 million yuan ($300,000) bus, said Chan. In the southern tech hub of Shenzhen, where it's headquartered, BYD supplied more than 80% of the electric buses for its all-electric fleet. But these subsidies will also go away by 2020, which is perhaps why BYD has been working hard to expand sales overseas.
Among its efforts to diversify, BYD has launched monorail projects at home and overseas since 2016, but in China construction has already run into regulatory hurdles and it will be years before its Brazil monorail impacts its earning statement.  Meanwhile, BYD has plans to sell batteries to other car makers but companies are likely to be cautious working with a rival car manufacturer because battery models can provide a lot of clues to a model's development, Chan said.
Even for phone assembly and handset components, a long-term and relatively stable business that still contributes nearly 40% of the firm's total revenue, there are headwinds. China's smartphone sales last year recorded their first drop (paywall) since 2009, and that's not going to help phone hardware makers, noted Chan.
Update, Aug. 30: This post was updated with BYD's interim results from Aug. 29, 2018.
Correction: This article has been updated to reflect that BYD isn't yet selling batteries to other car makers, but plans to.