When the Denver Broncos lined up against the Jacksonville Jaguars last weekend, the question for gamblers wasn't whether the Broncos would win, but rather by how many points they would pummel the lowly Jaguars. Bookmakers predicted that this margin, known as the "spread", would be 28 points—the largest in the history of the National Football League (NFL). When the clock hit 0:00, the Broncos were up by only 16 points.
The spread in American football is akin to a golf handicap. In theory at least, the chances of the favored team's "covering the spread"—i.e., exceeding the margin—should be 50/50 (pdf). That's what gamblers assume, at least.
But when the spread is big, this rule of thumb seems to break down. Of the 10 largest betting spreads in NFL history, only one team—the 1976 Pittsburgh Steelers—has managed to cover the spread. Of the 10 largest spreads last year, only one of the heavily favored teams covered. The same was true in 2011.
Our analysis of data from 2000 to 2012, collected from historical average spreads kept by sports betting site Gold Sheet, confirms that larger spreads are covered less often. Overall, favored teams exceeded the betting line only about 47% of the time. And as the spreads got more out of hand, so did bookies' abilities to properly size them.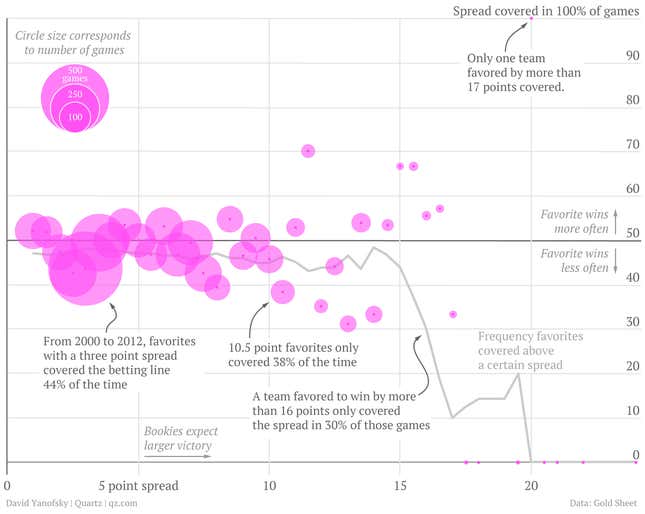 The most popular betting line was set at three—the number of points awarded for a field goal. Seven—the number of points awarded for a touchdown with a (nearly always) successful extra point conversion—was also a popular line.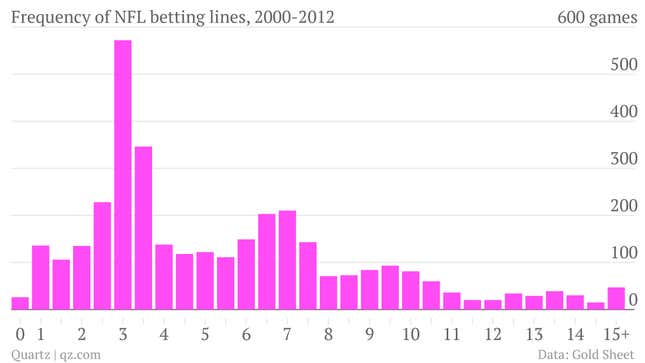 This weekend, the largest predicted spread is 11.5 points for the Green Bay Packers to beat the Cleveland Browns. Gamblers might not want to put too much money on the Packers. From 2000 to 2012 only 43% of favorites have covered an 11.5-point spread.