Imagine that you're a painter in North Korea. Your work—all of it—consists of producing propaganda images, many venerating one of your country's three leaders. What would you do if you had to paint pictures of another country, one that you have never visited before?
Nick Bonner and Dominic Johnson-Hill, two Beijing-based British expats, wanted to find out. So for a project entitled The Beautiful Future, profiled here in the Guardian, the two drew sketches of Beijing life and gave them to a North Korea propaganda artist, who then produced paintings based on them. The results, presented below, are fascinating.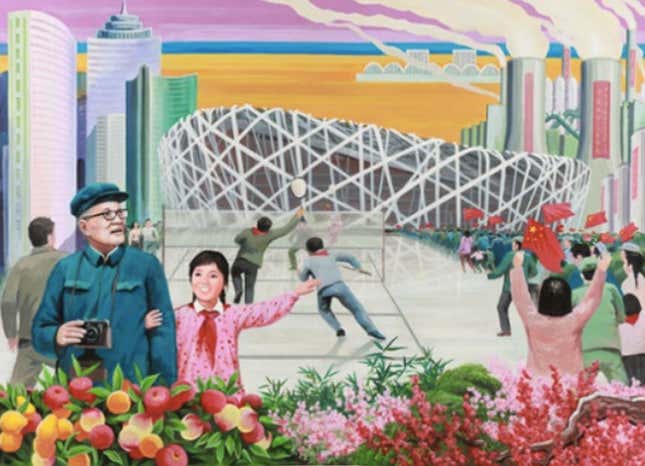 This is an image of the "Bird's Nest," the stadium Beijing built in advance of the 2008 Summer Olympics. In the painting, the camera-wielding tourist is wearing a Mao suit and cap, clothing that was typical in Chinese cities until the 1980s. In the background, some scarf-wearing people play badminton, while others walk toward the stadium waving Chinese flags.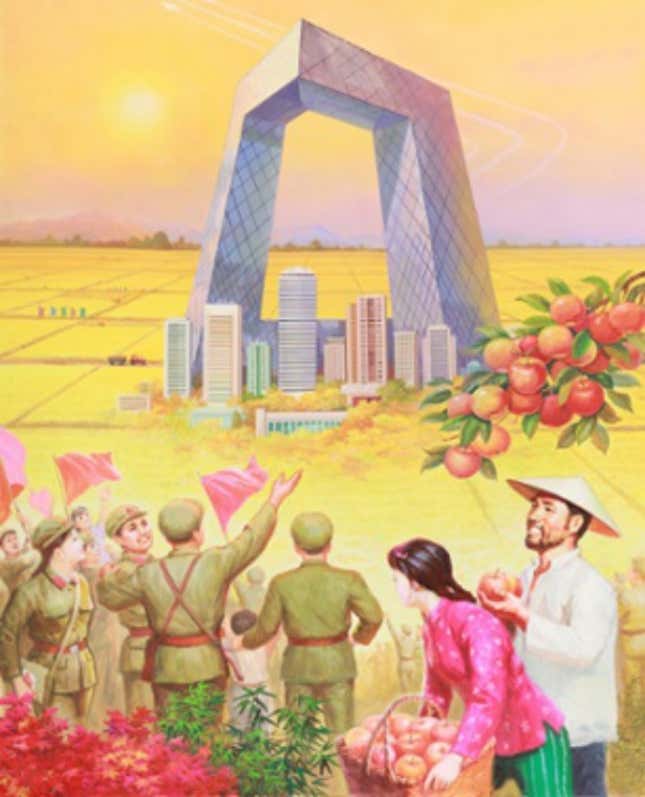 In this painting, two farmers—and a group of soldiers—gaze at the CCTV headquarters, which Beijing also built in 2008 (and I profiled a few days ago). The headquarters is just off Beijing's east third ring road, surrounded by miles of concrete in all directions. But the North Korean-made painting shows the building, and a few others, surrounded by neatly-sectioned farmland.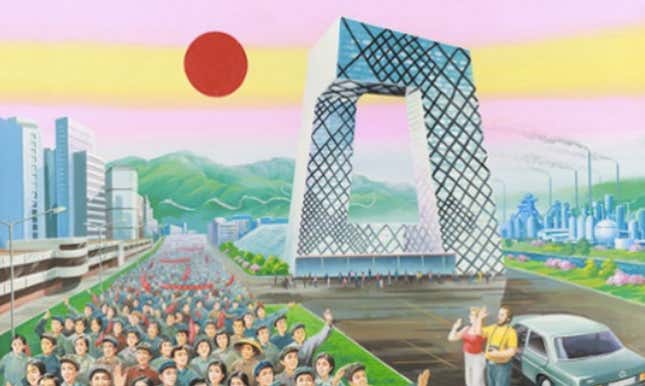 Here, again, is the CCTV tower, shown alongside a street crammed with marching people. For whatever reason, the male foreigner on the side of the street is wearing overalls—not the sort of thing you see in Beijing very often. The city's red sun—a consequence of pollution—is presented here.
What's so interesting about these drawings is this: They say a lot more about North Korea than they do about China. Although the two countries are allies—North Korea is heavily dependent on Chinese financial support—only a tiny percentage of North Korea's population has ever visited China. Over the past few decades, an increasing number of North Koreans have successfully crossed into China in order to seek temporary work and buy and sell goods. While such travel is forbidden, word of China's relative prosperity has spread throughout the country, so many North Koreans likely have some idea of what China is like. Nevertheless, it's striking that the painter has portrayed Beijing as a slightly souped up, glitzy version of Pyongyang.
For an older generation of Chinese people, these images might look familiar: During the Cultural Revolution, which lasted from 1966 to 1976, propaganda posters depicting smiling peasants were ubiquitous in the country. Here, for example, is a poster from that era (on sale at The East is Red) showing a Chinese farmer holding a copy of Mao's Little Red Book, a compendium of Mao's sayings which every Chinese person was required to own.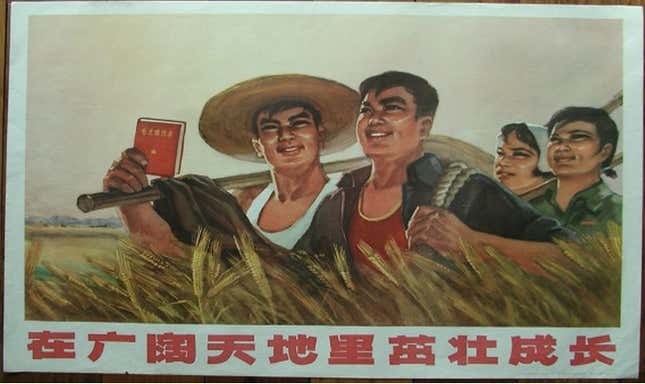 Nowadays, Cultural Revolution-era posters are considered kitsch items in China, and it isn't difficult to find old pins, posters, and, of course, original copies of the Little Red Book in trinket shops throughout the country. Will the same thing ever happen in North Korea? We'll see.
Matt Schiavenza is an associate editor at The Atlantic, where he oversees The China Channel.
This originally appeared at The Atlantic. More from our sister site:
Hong Kong's enduring identity crisis
Why China is relieved the debt ceiling crisis Is over