Situated by some of the world's most powerful economies and promising emerging markets, Thailand lies in the heart of Asia-Pacific. This means easy access to 3.5 billion people across Asia, comprising a market size that accounts for $24 trillion, which represents approximately 30 percent of the global GDP.
Thailand's eastern provinces of Chonburi, Rayong, and Chachoengsao have been the country's major manufacturing hubs for decades, successfully producing petrochemicals, automobiles, and electronics. On top of that, because the provinces are strategically located on the Gulf of Thailand, they've also been major export centers. Now the region, which already exports various manufacturing products to the world and draws millions of visitors every year, is set to experience unprecedented infrastructure upgrades under the new Eastern Economic Corridor (EEC).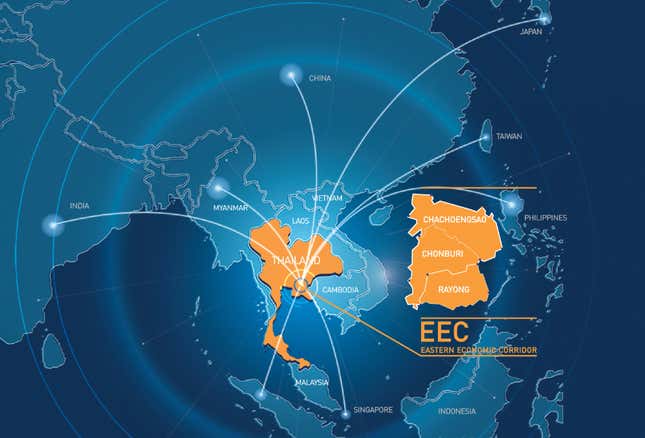 The ambitious $45 billion EEC, which was greenlit in 2017, is a part of "Thailand 4.0", a new economic model that aims to transform Thai industries from manufacturing-based to high-tech. The country plans to do this by fostering innovations in targeted industries such as robotics, aerospace, and digital economy. Thanks to its current infrastructure networks and government initiatives, Thailand hopes to turn these provinces into a leading digital and innovation hub that connects the other countries in the region by land, sea, and air.
Creating the logistics network that connects Asia
Core to the EEC is an intention to bridge Asia's economic powerhouses. The creation of the country's first high-speed rail linking together its three major airports (Suvarnabhumi, Don Mueang, and U-Tapao) as well as an extensive revamp of the U-Tapao airport itself, are among the first steps that will make this vision a reality and substantially reduce logistics costs. The project will also expand access to regions such as Chiang Mai in the north, Nong Khai in the northeast, and Hua Hin in the south.
Similarly, the expansion of  two cutting-edge deep sea ports at Laem Chabang and Map Ta Phut will support Thailand's increasing export growth. In addition, the development of a commercial port in Sattahip will allow the region to be more accessible to cruise liners and luxury yachts, easing tourists' access to the area.
The infrastructure developments, which are still in progress, will be ready for use within the next five to 10 years. However, many business leaders already see their potential and companies strategically based in Thailand are already reaping the benefits. "I think all of these initiatives the Thai government is working on are going in the right direction to support business development," said Alessandro Piscini, CEO of e-commerce company Lazada. "If you're talking about infrastructure, new ports, and new facilitates that support logistics networks — all of these things together will be a very big driver of growth for Thailand in the coming years."
Becoming Asia's innovation hub
However, in the 21st century, infrastructure means more than roads and ports. According to the Organization of Economic Co-Operation and Development (OECD), access and connectivity are linchpins of digitally-powered economic growth. This is why Thailand has developed Digital Park Thailand (EECd), a data hub with ultra-high-speed broadband infrastructure. The economic cluster, strategically located on the Eastern Economic Corridor, will be home to digital global players and innovators in Asia. More, Thailand's plans to equip EECd with submarine cables, satellite stations, and a data center will ensure that the center meets the needs of even the most demanding technology companies.
Thailand is taking a similar approach with the Eastern Economic Corridor of Innovation (EECi), where researchers will develop innovations that will be used in the real world, improving the lives of local people and making Thailand a hub for future-thinking innovation.
Together, these projects are helping to make Thailand an attractive place for rising tech companies, according to David Sun, Huawei's Southeast Asia CEO. Companies such as Huawei are already successfully tapping into the skyrocketing appetite for electronics in the region.
According to the OECD, Asia is forecast to remain the world's fastest-growing region through 2030, with many ASEAN countries leading the way with economies that are rapidly going digital. This economic growth, along with the development of cutting-edge infrastructural facilities in Thailand such as EECd and EECi to foster innovative businesses, creates unprecedented opportunities for business visionaries. Thanks to progressive incentives and forward-thinking policies, the Land of Smiles is embracing a future of innovation.
For more information about the benefits that Thailand might offer your business, visit the Thailand Board of Investment, which showcases resources and programs that create opportunities across a range of industries.