On September 1, 1939, Germany invaded Poland. A few days later, World War II began. Last night (Sept. 1), the 79th anniversary of that invasion, thousands of neo-Nazis, far-right politicians, and locals took to the streets of Chemnitz, a town in the eastern German state of Saxony, spewing hatred against foreigners and demanding "Germany for Germans."
The significance of the riots happening on such a dark anniversary was not lost on many observers. Foreign minister Heiko Mass tweeted: "The Second World War started 79 years ago. Germany caused unimaginable suffering in Europe. If once again people are parading today in the streets making Nazi salutes, our past history forces us to resolutely defend democracy."
Thousands of counter protestors also turned up, carrying signs saying, "Heart instead of hate."
Saturday night's march capped a week of violent, right-wing protests in Chemnitz, which erupted after the fatal stabbing of a German man by a Syrian and an Iraqi early on August 26. The far-right Alternative for Germany (AfD), which entered parliament for the first time in the September 2017 elections, organized Saturday's march "to mourn Daniel H. [the stabbing victim] and the others killed by Germany's forced multiculturalisation." The AfD stood shoulder-to-shoulder with members of PEGIDA, an anti-Islam movement that has been around since 2015.
It was not only neo-Nazis railing against migrants in the streets, but also people calling themselves "concerned citizens." Anti-immigrant sentiment is not new in the state of Saxony, which has a big neo-Nazi scene. Bombarded with anti-immigrant messages from the AfD, PEGIDA, and local right-wing groups, people in these former East Germany states—which have failed to achieve the same level of economic prosperity as the rest of the county since Germany's reunification—are ripe for exploitation by the right. They're angry that chancellor Angela Merkel opened Germany's doors to migrants, and many say they feel forgotten by the government in Berlin. 
The AfD's role in condoning anti-foreigner sentiment puts it firmly on the side of the extremists, while also encouraging people, who claim they are don't want to be labelled as Nazis, to openly rail against migrants and demand "Germany for Germans." 
"There's a feeling of lurking fear, especially among older people, stoked by the far right," Sabine Kühnrich, who runs a democracy grassroots movement told AFP this week.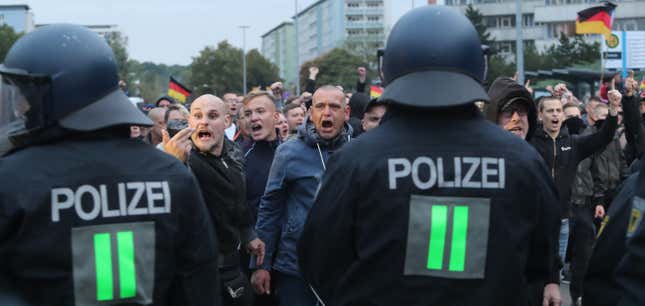 The leaked arrest warrant
The events of the week have also resurfaced old concerns about far-right sympathies within German law enforcement in the state of Saxony, after it transpired that a prison officer had leaked the arrest warrant for the Iraqi suspect who allegedly stabbed the German man.
The warrant quickly spread via Whatsapp and social media, setting the stage for a thousands of extremists to go on the rampage. Police were outnumbered, while the protestors openly made the illegal Nazi salute and called for immigrants be hunted down.
"To hear that the arrest warrant was probably leaked by the police to right-wing extremist circles means that we have a huge problem to deal with," Martin Dulig, the deputy premier of Saxony state told German media on Wednesday.
German foreign minister Heiko Mass told the Bild newspaper on Sunday (link in German, paywall) that the events in Chemnitz underline a complacency that has grown within German society. "We have to get up off the sofa and speak up," he said, noting that his generation had been given freedom, democracy, and the rule of law "and we sometimes take it for granted."