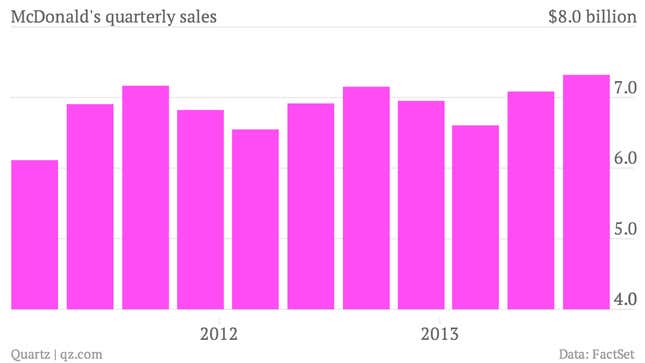 The numbers: Unsatisfying. McDonald's posted third-quarter revenue of $7.32 billion, up 2% and broadly in line with analyst estimates.  Net income was $1.52 billion, up 5% from last year and slightly better than expected.  But shares in the iconic fast food chain are down about 2% in premarket trading after the company said its global sales in October would be "relatively flat".
The takeaway: Glimmers of hope in Europe, perhaps boosting talk of a nascent recovery on the continent. The company has been tweaking its menu and adapting its marketing in Europe to reflect ongoing weakness in many major economies.   Revenue on the continent was up 6% to $2.96 billion. McDonald's continues to struggle in Asia where operating income slid 12%.  It attributed the weakness to the "ongoing challenging environment"  in China Japan and Australia and said it remains focused on improving growth at two key times of day, breakfast and late nights.
What's interesting: While US sales during the quarter were lifted by a popular Monopoly promotion, it's too early to tell how other menu innovations, like McDonald's own pumpkin spice latte (a version of the Starbucks invention) are faring, as they were launched too late in the quarter.