This story is part of What Happens Next, our complete guide to understanding the future. Read more predictions about the Future of Cities.
A nice house in the country is an aspirational lifestyle for many: a little place in Norfolk or Maine, a few acres of land, an old farmhouse that's been nicely retrofitted, maybe a few solar panels on the roof. You could grow some of your own vegetables in the garden and use the internet to video-conference into the office. You'd be back to the land, with all the creature comforts of the city.
But it's very expensive to pull yourself out of Western industrial capitalism and give yourself the simpler life. If you try and do that in Britain, it'll cost at least £300,000 (USD$380,000) to buy the place and get it set up. Then you've got to spend £20,000 to £50,000 a year to maintain your lifestyle on top of that. You're basically going back to what the original builders of that farmhouse had, but the difference is that now you have an internet connection, clean water, and solar panels—and it cost you nearly half a million pounds to get there.
For so many of us, the urban phase of existence is seen as an on-ramp that will hopefully one day take us back into the rural phase; the city is where you come to make the money to buy yourself back out into the country. A simple rural life is the golden apple at the end of the capitalist trip, the brass ring that 30 or 40 years of successful work buys you. But it's also a paradox: We want to pay to live in the near-poverty that the original builders of our dreamy farmhouse were working to escape.
That was 1600s England. Modern-day South America, India, parts of China, and most of Africa essentially have the same lifestyle niche that most of Britain had in the Elizabethan era. Their standard of living is very low. Their water is dirty. The open fires on which they cook on emit a lot of smoke, so everybody is smoking the equivalent of 20 cigarettes a day. There are all kinds of terrible diseases that lower life expectancy, and somewhere between one in five to one in 20 children will die before the age of five.
But rural life doesn't have to look like this. It is my prediction that in the 21st century, the villagers of Africa, India, and South America will leapfrog over the city—and the rest of Western industrialized society. Instead of aspiring to migrate to the cities to make a bunch of money, the rural farmers of the developing world will be soon able to stay where they are with low-cost, local, distributed versions of all the critical amenities they need.
Start with a building, like a mud or thatched hut. Put a cheap, water-resistant coating on the outside and some solar panels on the roof, just enough to charge your cell phone. Thanks to cheap water filters—you can buy them for about 30 quid now—you'll also have clean drinking water. There are some great designs from an English outfit called Safe Water Trust that are even cheaper, and they'll last more-or-less forever in a typical village context.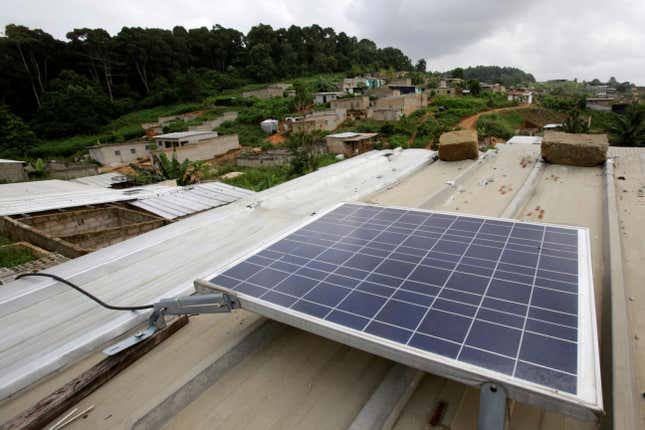 With your phone charged, you'll be able to access the internet; rural areas are increasingly equipped with 3G, 4G, or soon-to-be 5G connections. Your kids will therefore be able to get an education off your tablet computer—which now can cost as little as $35—and those solar panels on the roof can keep it running. You can make some money, too, like doing a bit of translation work for your cousin who lives in New York, or some web development for your ex-colleague's start-up. You're still growing your vegetables out the back, but now you can look up crop diseases, and there's this thing called permaculture that you're also taking an online course in.
Humans need to explore this mode of living if we are to continue catapulting down this materialistic path. When we wind up with a global population of 9 billion, where everybody has two cars and a four-bedroom house, there's no other way of arranging the pieces. There isn't enough metal in the earth, never mind enough money.
We're therefore at a dead end. Inequality is here to stay. But inequality doesn't have to mean abject poverty. These rural communities will have access to self-sufficient peasant agriculture, education by internet, and a standard of living that is roughly what we aspire to have when we get rich and retire—but they'll be able to achieve it without going through the urban hyper-capitalist phase first.
This notion of rural life will be centered around the bicycle, the solar panel, and the tablet computer instead of the Land Rover, the diesel generator, and the combine harvester. A life of stable self-sufficiency, rather than precarious plenty. If leapfrogging rural communities can manifest an existence that would satisfy the lawyer-turned-faux-farmer, the notion of rural-urban-and-then-back-to-rural migration would reach the end of the cul-de-sac.
This story is part of What Happens Next, our complete guide to understanding the future. Read more predictions about the Future of Cities.