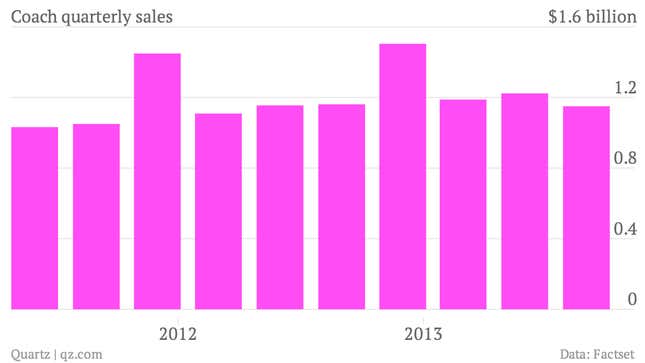 The numbers: Not great. The American luxury maker of handbags and other accessories reported sales of $1.15 billion for the quarter ended Sept. 28. That's nearly 1% lower than sales a year earlier during the same period.
The takeaway: North America, where two thirds of the company's sales come from, has been a tough market. Sales at comparable stores in North America fell 6.8% for the quarter. Coach faces not just a slowdown in American consumer spending but rising competition from other brands in the "accessible luxury" sector like Michael Kors, Tory Burch, or Kate Spade.
What's interesting: The 72-year-old company that's mostly known for its leather handbags is trying to transform itself into a "premium lifestyle brand" that includes everything from clothing and footwear to sunglasses. That transition could be difficult as the company adjusts to a new creative director after Reed Krakoff leaves next year. Moreover, as Coach's outlet sales grow—to make up 60% of its North America sales, up from 30% in 2006—more and more women are seen toting its bags, which may erode its cachet and hurt its chances of selling other products at high prices.