The McDonald's "Dollar Menu" is no more—or rather, it will now be the "Dollar Menu & More," including sandwiches, sides, and snacks that cost up to $2. The new menu, driven by rising prices on commodities, is the product of extensive negotiations between McDonald's corporate headquarters and their franchisees.
Here are some of the trends behind the change.
1. Droughts have driven up the wholesale price of cattle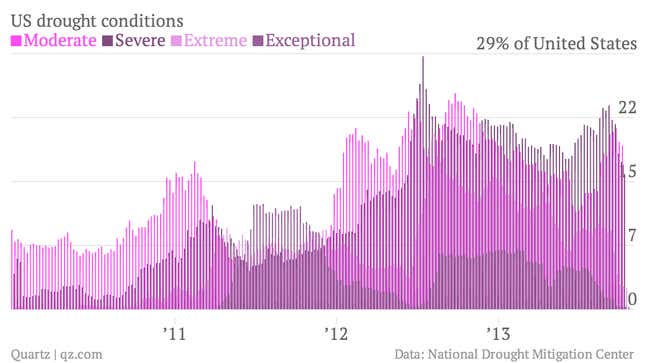 Since 2011, rising temperatures across the United States have led to drought conditions in cattle-ranching states like Texas and Oklahoma. Ranchers have had to cull herds facing limited pasture and pay more for feed, leading to fewer, more expensive cattle on the market.

2. When cattle cost more,  so does ground beef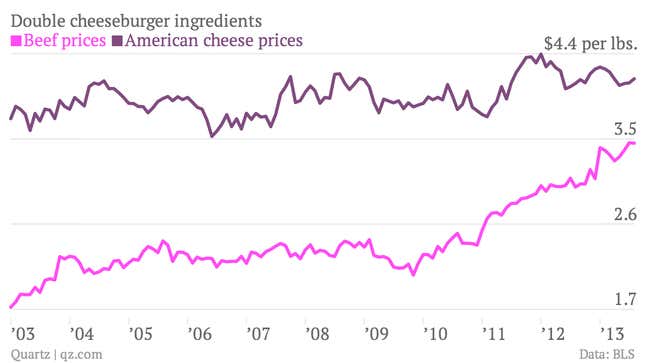 These are retail prices, so they're more expensive than what McDonald's buys, but you can see beef prices heading north since the early part of the decade.

3. When franchises have to pay more, they complain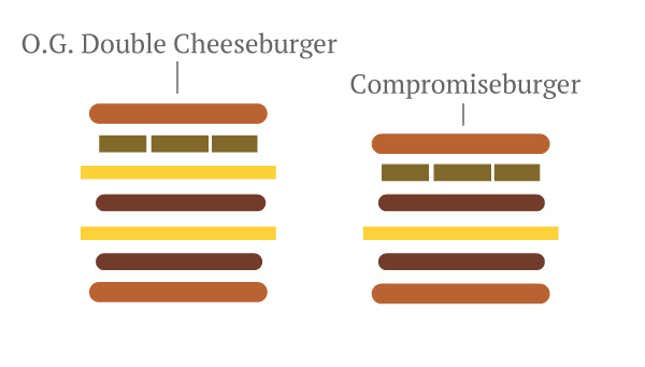 Ever since the company introduced its dollar menu in the early 2000s, the low price-point has been a point of contention with McDonald's franchisees. The double cheeseburger, which has the most expensive ingredients on the menu, has been the main battleground. In 2008, the company and its franchisees compromised, subtracting one slice of cheese from the sandwich to make up for rising beef costs. Thus was born the "McDouble":

4. But that wasn't enough
While the McDouble was hailed as "the most bountiful food in human history" for supplying 390 calories at such a low cost, even it can't last forever. Beef prices have risen considerably since that 2008 compromise, and now the company has introduced "flexibility" to McDouble pricing, which means franchises can now charge more than a dollar for the sandwich.
"We changed from a Big N' Tasty, initially, to a Double Cheeseburger, from Double Cheeseburger to McDouble, so we've always evolved the Dollar Menu," CEO Don Thompson said. "That's what we're doing now, that continued evolution."