US economic news has been very good lately. Americans are making more money and spending a lot more of it, too. Jobs are plentiful.
And now, finally, the typical American household's income is just about back to where it was before the 2008 financial crisis, according to data from the Bureau of Labor Statistics. From 2014 to 2017, US median household income rose by more than 10%, the fastest three-year growth since the government started collecting statistics in 1967.
The gains haven't been equally shared across the country, according to state and city data from US Census's American Community Survey, released today. North and South Dakota, Washington state, and Nebraska all experienced more than 7% household income growth from 2007 to 20017.
Each state has a different reason for its relative prosperity. North Dakota's growth was fueled by the energy industry, while South Dakota has been buoyed by strong financial and health sectors. Washington state's growth is driving by the presence of thriving companies like Amazon, Boeing, and CostCo. Extremely low unemployment rates have boosted incomes Nebraska.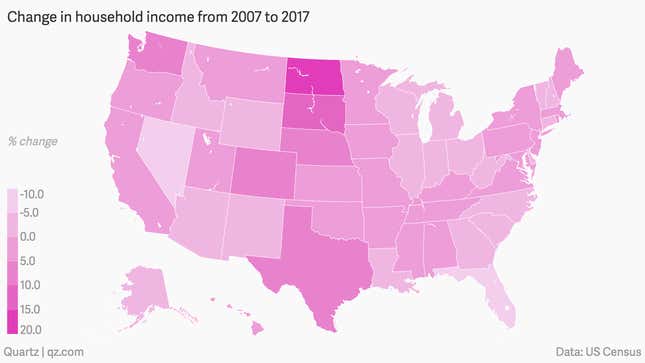 By contrast, in Nevada and Florida, the epicenters of the housing crash, the typical household is still worse off than in 2007. In Nevada, the gaming and construction industries took big hits during the recession; although incomes in the state are growing again, the "Las Vegas dream" is far from back. Florida's real estate industry was hammered, and many high-paying jobs in that sector never returned. Of the 25 largest metropolitan areas in the country, in five of them, the median household is 5% worse off than in 2007. Three of those five—Orlando, Miami, and Tampa—are in Florida.