It looked like it couldn't last.  US home prices had a sizzling run earlier this year. But analysts have been wondering when the rise in US mortgage rates—set off by the Federal Reserve's flirtation with the "taper" earlier this year—would relent.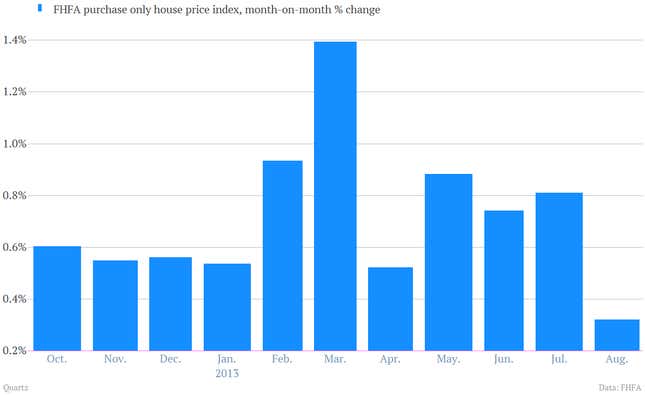 Perhaps now. The August edition of the Federal Housing Finance Agency's home price index showed the smallest gain in 11 months. (The FHFA index tracks changes in home prices for single-family houses purchased using a certain category of government-insured low-risk mortgages.)
Other gauges have shown a similar cool off. The median price for an existing home sold in September was $199,200 in September. That was up 11.7% compared to September 2012. Not too shabby. But in August the median price had been up 13.4% compared to the prior year.
Leaving aside the recent confusion over when—and whether—the Fed would depart from its bond-buying programs, those programs were designed in part to bump up the prices of housing. While dismaying for would-be buyers, higher real-estate prices do various good things for the economy as a whole. They bolster the net worth of consumers, which can have boost the overall economy via the wealth effect. They also help pull some homeowners back out of being "underwater", i.e., owing more on their home than it was worth. That's important because it makes them eligible to refinance their homes, lowering monthly housing outlays, and freeing up cash to be spent elsewhere in the still lackluster US economy.