VW announced on Thursday that the final Beetle will roll off the production line next year. "The loss of the Beetle after three generations, over nearly seven decades, will evoke a host of emotions from the Beetle's many devoted fans," said Volkswagen America CEO Hinrich Woebcken.
Whether the Beetle's demise will "evoke a host of emotions" from fans is debatable. The New Beetle, which launched in 1998, is a bulbous re-incarnation of the original bug-eyed cutie, and never really achieved the same cult status.
The original Beetle was created by Ferdinand Porsche and Austrian designer Erwin Komenda on orders from Adolf Hitler to make a cheap car everyone could afford. It had a rear-mounted engine, rear-wheel drive, a split back window, and a "frunk." The car burst into American consciousness in 1959, with the legendary "Think Small" campaign by New York agency DDB. The Beetle then cemented its place as an icon of the post-war hippie generation with its starring role as Herbie in the 1968 movie The Love Bug. It was one of the best-selling foreign cars in America in the 60s.
While VW stopped selling the Beetle in the US in 1979, production didn't end until 2003 in Puebla, Mexico.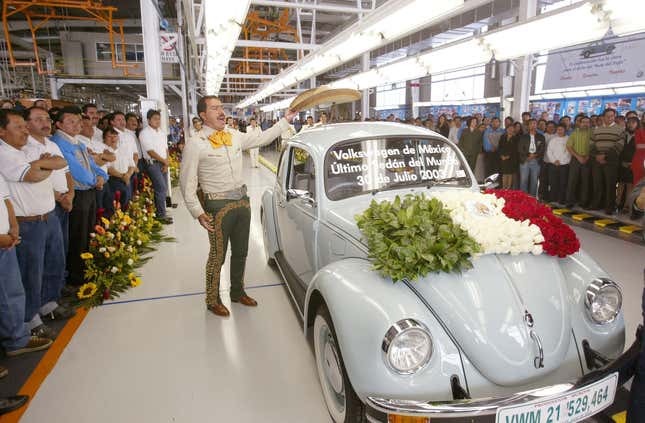 VW said it has sold about 500,000 Beetles worldwide since 1998, but sales have been falling in the US, thanks in part to a general consumer trend away from small sedans and towards SUVs. Beetle sales are down by a little over 2% this year, to 11,151 units. Other carmakers, like Ford and Fiat Chrysler, are likewise cutting small and medium-sized cars from their US lineups in favor of crossovers and SUVs.
Volkswagen said it will bring out two special "farewell" editions of the Beetle before it finally squashes the bug. Woebcken said the company also hasn't ruled out bringing it back in the future—maybe it will be an electric Beetle, as CEO Herbert Diess hinted at last year.