Supreme Court nominee Brett Kavanaugh tends to use a particular phrase when he speaks to other members of the American elite about their activities behind closed doors: "What happens at [private school or club] stays at [private school or club]."
In a lecture titled "The Judge as Umpire" delivered to the Catholic University's Law School in March of 2015, Kavanaugh noted that three of his close friends from his private high school, Georgetown Preparatory, also attended the law school. "Fortunately, we had a good saying we've held firm to this day," Kavanaugh told students, "which is 'What happens at Georgetown Prep stays at Georgetown Prep." To polite laughter, he continued, "That's been a good thing for all of us, I think."
The "what happens" quote was omitted from a transcript of the speech submitted to the Senate Judiciary Committee, an omission first noticed by The Young Turks.
A year before, Kavanaugh made similar remarks during a speech at a banquet thrown by Yale Law School's conservative Federalist Society, (known as Fed Soc). He recalled a night of Boston bar-hopping that he organized as a Yale student, which ended with them "falling out of the bus onto the front steps of Yale Law School at about 4:45 am."
"Fortunately for all of us, we had a motto," Kavanaugh said. "What happens on the bus stays on the bus." He continued, "You can modify that to 'What happens at the Fed Soc after-party stays at the Fed Soc afterparty.'"
In other words, go nuts. We're all friends here, and there are no consequences tonight.
Men behaving badly
The phrase "What happens at XX stays at XX" has been around for decades in English-speaking countries, with variations used by sport teams, enlisted military, and musicians.
It's probably most well-known now in the US, however, because the Las Vegas visitors board adopted the slogan in 2003. The slightly risqué Las Vegas advertising pitch was geared towards both men and women; "Go ahead," the ads seem to say, "sleep with a stranger!"
But often, the concept been brokered by powerful people, often men, as a license for do things they normally wouldn't say or do. Take "locker room talk" as explanation and excuse for Donald Trump's infamous "grab 'em by the pussy" comment—the implication being that in a male-only space like the locker room, secret boasts of violence are protected. More broadly, professional sports are infused with a "pervasive culture of infidelity" enabled by assistants who help hide affairs. And the US military has warned enlisted men (and women) for years about the dangers of secretive illicit relationships.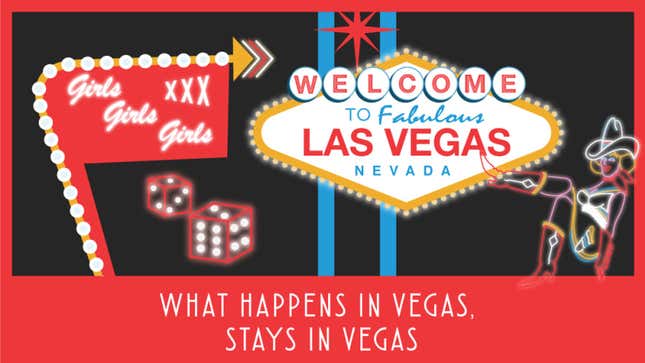 "What happens in XX…" is also a foundation of the American mythology of rock and roll. "Las Vegas stole that shit from us…," Motley Crue drummer Tommy Lee griped in Tommyland, his 2005 autobiography. The phrase "what happens on the road stays on the road" was "an old saying that's been said many ways" he wrote. If no one in the band snitches, who's to know? It's "boys will be boys" with a dash of omertà. 
The toxic code of secrecy
The phrase "What happens in XX stays in XX" speaks to an insidious mindset that has often enabled abuses of power. There is no stronger protection for a powerful man, even in front of the law, than the word, or the silence, of other powerful men.
For decades, a version of "What happens in Vegas" allowed men to sexually harass women with impunity, and even punish them if they complained, because who's going to believe a woman? What happened at Miramax, stayed at Miramax; what happened at CBS, stayed at CBS, thanks to a small, silent, powerful group. Harassers' enablers were often men; the victims were almost always women.
With the #MeToo movement, a flood of women are breaking this code of silence, by making painful and upsetting personal experiences public. The latest is Christine Blasey-Ford, a 51-year old professor, who alleged a 17-year-old Kavanaugh locked her in a bedroom at a party in Maryland when she was 15 years old, with the help of a friend, Mark Judge, and then tried to rape her. Kavanaugh denies the attack ever occurred.
Judge, asked to testify to the US Senate about the Georgetown Prep incident, declined to appear at all. "I have no memory of this alleged incident," Judge said, via a letter his attorneys sent to senators, and had "no more information" to offer the committee, even though his public testimony could clear his friends name.
But as with other #MeToo incidents, one person speaking out has led to others breaking their own codes of silence or demanding that the past be investigated. Over 1,000 alumni of Blasey-Ford's private girls school have signed a public letter of solidarity, which reads "Dr. Blasey Ford's experience is all too consistent with stories we heard and lived while attending Holton. Many of us are survivors ourselves."
Nearly two dozen more from Blasey-Ford's class have signed a letter asking for a "more thorough and comprehensive review of [Kavanaugh]," noting that it is not a partisan issue. (Another 65 women from DC's private school circuit signed a letter supporting Kavanaugh before Blasey-Ford's name came out; several continue to support him publicly.)
The accusations have opened a new examination of the DC's elite schools. Their culture at the time when Blasey-Ford and Kavanaugh were students was "suffused by alcohol and drugs," a situation that bred "sexually aggressive behavior by some of the male students that often bordered on assault," former students told the Washington Post.
The mostly-elderly Republican senators of the Judiciary Committee who will decide on Kavanaugh's worthiness for Supreme Court have said they're interested in hearing what Blasey-Ford has to say. However, some of these same senators, many of whom dismissed Anita Hill's complaints about Clarence Thomas a generation ago, have already indicated they don't believe Blasey-Ford's account.
Chuck Grassley, the Judiciary Committee chairman, detailed the lengths to which he would accommodate Blasey-Ford's testimony in a letter to Democrats. He also said he would not ask the FBI to open an investigation into Kavanaugh's behavior, "Because Dr. Ford's allegations are in the public arena, there is no longer a need for a confidential FBI investigation," he wrote.
However, Blasey-Ford is willing to testify next week, her lawyer said Sept. 20, as long as the conditions are "fair" and "ensure her safety." Because she is willing to speak, what happened at a Maryland house party will not remain at a Maryland house party.