There's growing awareness that slick online services are far from free—and that we may be paying too high a price for some of them. Hyper-specific targeted advertisements are creepy, while using our data to tamper with elections raises surveillance risks to a new level. As more payments take place online via apps, a growing trove of personal data is ripe for exploitation.
That's where David Chaum comes in. His pioneering work in cryptography and digital payments predates bitcoin, and laid important groundwork for its invention. Likewise, he made prescient warnings about online privacy long before data-sharing scandals at mega tech companies like Facebook. "Everything you do could be known to anyone else, could be recorded forever," Chaum told Wired magazine in 1994. "It's antithetical to the basic principle underlying the mechanisms of democracy."
His latest venture is called Elixxir, a blockchain designed for fast, secure, and confidential messaging and payments at minimal expense. The design acknowledges that text messages and payments—from WeChat to WhatsApp Pay—are increasingly intertwined, by popular demand.
At a CoinDesk conference in Singapore this week, Chaum pointed out that bitcoin was originally supposed to be a payment system instead of speculative asset. While bitcoin's distributed blockchain is too slow to handle transactions as quickly as centralized systems, like the Visa network, he says he has devised a way to speed it up. He claims the network would also gobble up less electricity than bitcoin, and would be less prone to being undermined by quantum computing (someday, maybe).
You can read more about the technical specifications here. Elixxir hasn't disclosed information about tokens or plans for an initial coin offering, but a beta version is expected to go live early next year.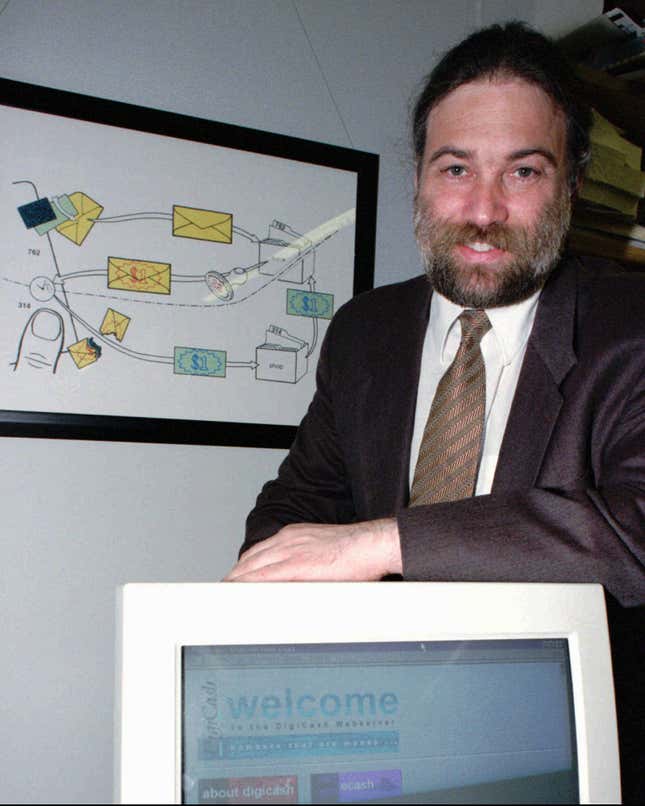 Chaum's attempt to create a private digital money system in the 1990s didn't catch on, but the computer scientist and cryptographer's research helped spawn the cypherpunk movement that eventually birthed bitcoin in 2009. He says technology has improved to the point that speed and convenience don't have to be exclusive to privacy any longer.
"It's not that people are unaware of the privacy that they're losing," Chaum said. "It's that there has been no clear alternative which allows them to take control of their own informational lives without making significant sacrifices in terms of convenience and usability."
Paradoxically, as more payments happen electronically, the crypto crowd has mainly been on the sidelines. Visa and Mastercard are the conduits for a major swath of digital consumer transactions, while Alipay and WeChat reign in China. Tech giants like Facebook, Google, and Amazon are skirmishing to win over burgeoning electronic payment networks around the world.
Consumers are forking over a shocking amount of data—for now. Google Payments, for example, collects transaction information such as date, time, amount, merchant location and description, description of whatever was purchased, any photos linked to the purchase, names and email contact information of the seller and buyer, the type of payment method, and your description of the reason for the purchase.
Consumers increasingly have to choose "either an identification-based paradigm where information about them is freely linked and traded and analyzed and so on—and maybe misused—versus a world where people take control over their own informational lives by owning their own keys," Chaum said. "It has only become more and more clear."
---
---
The future of finance elsewhere
---
Previously, in Future of Finance Friday
Sept. 14: A history of the next 10 years in banking
Sept. 7: Europe's fintech firms are on pace to set an IPO record this year
Aug. 31: Warren Buffett's protégé is backing a local rival to Google and Facebook in India's payments battle