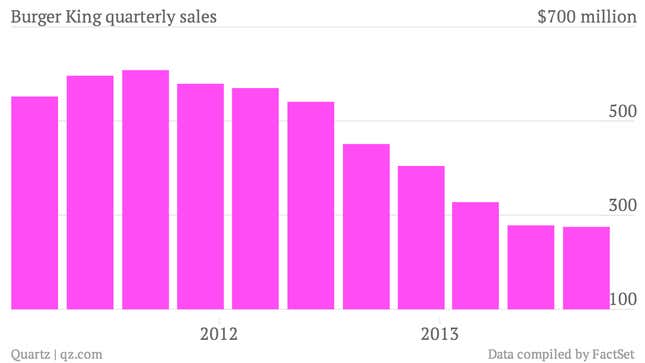 The numbers: Burger King Worldwide reported third quarter earnings of $68.2 million, up over 900% from $6.6 million last year. Revenue, however, fell 40% to $275.1 million. Shares are up slightly in pre-market trading.
The takeaway: Burger King is getting leaner. The company saw revenue decline steeply, but still managed to boost profit. How come? Cost-cutting. Burger King refranchised over 500 company-owned stores globally. Now, approximately 99% of the company's restaurants are owned and operated by independent franchises, which allows the company to function as something of a whole-seller by insuring buyers of its beef, buns and other food stuffs. It also helps alleviate general and administrative costs associated with running Burger King restaurants around the world. In all, expenses fell a whopping 64% to $129.6 million from last year. Burger King recently launched its "Satisfries" french fries, which have less fat and fewer calories, in the U.S. and Canada, which Schwartz said would help boost restaurant profitability.
What's interesting: Burger King is growing everywhere, except in the US, where sales are suffering from growing competition in fast food, healthier food preferences and tighter consumer budgets. Same-store sales rose by roughly 1% in every region other than the US, where they slipped by 0.3% from last year. The company has responded with a number of value promotions, including its $1 Fry burger and healthier options like light french fries. "Consistent with our plan to launch fewer, more impactful products going forward, we unveiled SATISFRIES™, an all-new better-for-you French fry that helped drive traffic during the last week of September," Burger King said in a statement.
Bonus: Fast food is getting political. In response to former Burger King CEO Bernardo Hees's recent move to become the new CEO of H.J. Heinz Co, McDonald's announced on Oct. 25 that it will be cutting ties with Heinz ketchup after 40 years of offering the company's little packets along with its burgers and fries. "As a result of recent management changes at Heinz, we have decided to transition our business to other suppliers over time," the company said in a statement. It's a huge blow to Heinz, which has long enjoyed a highly profitable partnership with McDonald's, and potentially good news for Hunt's, Heinz's largest competitor, whose packets are likely to replace those of Heinz at McDonald's chains around the world.