Baidu, China's biggest search engine, has just become the latest Chinese tech giant to get into the finance business. Yesterday it launched a new "wealth management product" (WMP), a high-interest deposit account, called Baifa (Chinese). It has already attracted more than 1 billion yuan ($164.3 million) in deposits.
Earlier this year, China's titan of e-commerce, Alibaba, launched Yu E Bao, a WMP for users of Alibaba's PayPal-like escrow service. Tencent does something similar with its chat app, WeChat.
Baifa's quick early success is interesting given its rocky start. Earlier this month, Baidu promised the product, which is run in tandem with China Asset Management Co, would return 8% (hence the web address 8.baidu.com). It's since walked back that promise, after the regulator said guaranteeing returns violated securities rules. On top of that, a surge of traffic temporarily crashed its site for three hours yesterday.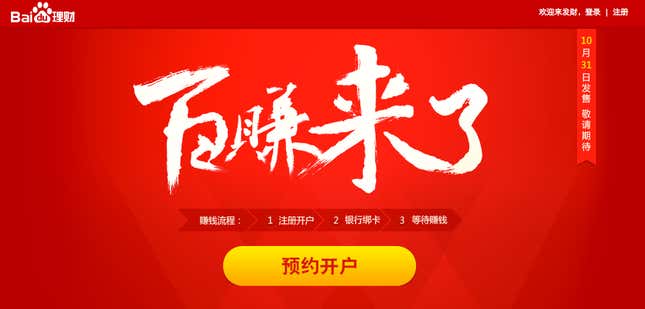 So why are Chinese internet users pumping billions into online WMPs? For one thing, the Chinese government allow banks to pay only 3.25% annual interest on deposits. That means most savers make little, and, depending on inflation, sometimes lose money. But they have little else to invest in besides stocks and housing, both of them dizzyingly speculative markets.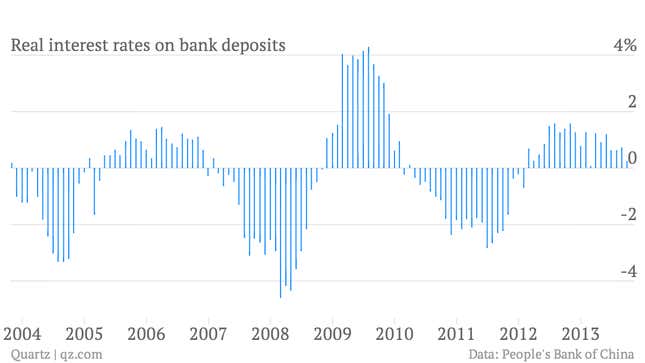 It's also convenient. Between selling and buying stuff, Alibaba's users frequently have money kicking around in escrow. With a few clicks, that money can be yielding around 5%. Baidu's online payment service has many fewer customers than Alibaba's, but the first-day reaction may be a sign of how popular Baidu is.
This could in theory become a big deal given how gravely deposit-starved Chinese banks are. While Baifa's has been a promising beginning, it's nothing compared to Yu E Bao's 55.7 billion yuan ($9.2 billion) in deposits, which analysts expect to exceed 100 billion yuan by year's end.
That's a very long way off indeed from, say, the 14.5 trillion yuan ($2.4 trillion) in deposits at state-owned Industrial and Commercial Bank of China, China's biggest bank (as of June 2013). It is, however, an impressive start.
Alibaba in particular seems seriously intent on growing its financial-services business. It just bought a controlling stake of Tianhong Asset Management Company, the biggest fund management company in China in terms of registered capital, for 1.2 billion yuan in October.
That's probably because, as Caixin points out, although Alibaba is acting like a bank with Yu E Bao, it lacks a key safety measure banks have, which is the ability to borrow from the central bank or the interbank market. Without that backstop, Alibaba could end up in trouble if the value of its investment portfolio drops at the same time as a lot of depositors want their money back. Its controlling stake in Tianhong makes it eligible to qualify as a bank, pending regulatory approval. Tencent, too, is seeking a banking license (pdf). Baidu, meanwhile, is cooperating with China's second-biggest fund management company, China Asset Management.
Competition for deposits won't lessen until the central government raises the deposit rate (or sets it free altogether). That's unlikely to happen soon. Which means that Alibaba's, Tencent's and Baidu's new ventures present yet another drain on banks' dwindling deposits.