Akihito, the first post-war emperor of Japan, is a venerated national symbol. He's also obsessed with gobies.
His expertise with the fish family is known among fellow ichthyologists and in Japan, where marine biology is something of an imperial past-time: Akihito's father Hirohito, who reigned from 1926 to 1989, was recognized as an expert in jellyfish.
Before Akihito assumed the Chrysanthemum throne, he was a member of the Ichthyological Society of Japan, publishing 30 papers in its journal. He presented research into the taxonomy of the goby like "Some Morphological Characters Considered to be Important in Gobiid Phylogeny" at international conferences.
After becoming emperor, Akihito continued his work, maintaining a staff of private researchers at the imperial palace in Tokyo. He has published as recently as 2016, a paper in the journal Gene concerning the use of DNA analysis to classify gobies, and also written about the history of science in Japan. He has even deployed naturalists on the grounds of his palace to study the tanuki, or raccoon dogs, that live there.
In 2007, he delivered a keynote speech to the Linnaen Society, a scientific organization named for the father of empirical taxonomy. Akihito spoke with pride about how his use of "head sensory papillae" to classify gobies in 1967 was initially questioned but now has become an "important factor" in classifying the fish.
The goby is a humble and unassuming fish to receive such illustrious attention; it is generally just inches long and lives in salt water, burrowing into the sandy floor of the ocean. It's not clear what led Akihito to his interest in them, but he has had a hand in naming five new species of the fish. And an entire genus of the fish, as well as a species, Exyrias akihito, have been named after the emperor.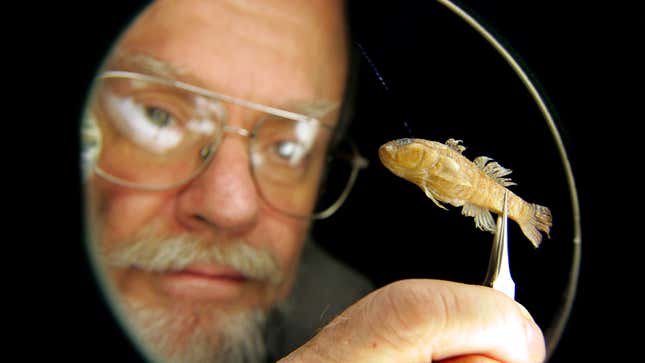 Akihito is preparing to abdicate in April 2019 due to his advancing age, a difficult process that required the Japanese legislature to create a new law to allow him to step down and hand over his ceremonial duties. He will be remembered as the first modern emperor, who married a commoner he met playing tennis, offered messages of peace and remorse to the world, and unified his country after natural disaster.
But after his son crown prince Naruhito takes over, we hope Akihito will find more time to spend with his favorite family, Gobiidae.